Meet Marlin, the swimming, ocean-loving Hatteras Island cat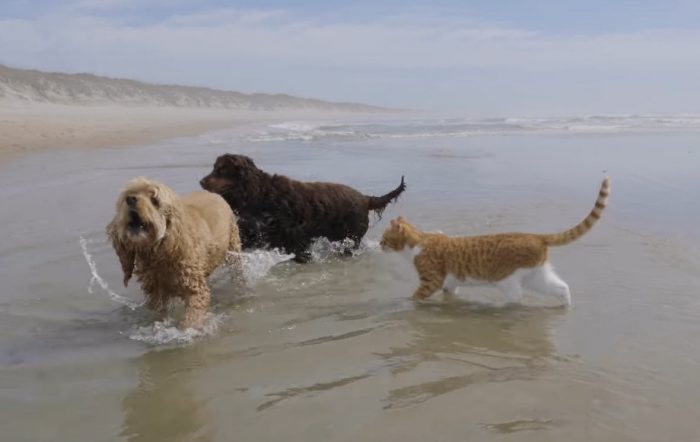 Meet Marlin – a handsome, orange tabby cat who has been making waves on social media, thanks to his many documented adventures along the waters of the Outer Banks.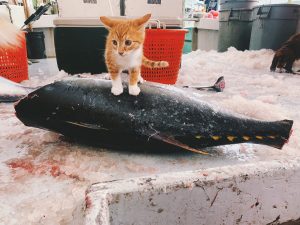 Marlin is raised by his parents, Caroline Jarvis and Mack Hopkins, (soon to be Mr. and Mrs. Hopkins), as well as his dog brothers and sisters – Buxton, Hattie, Shady, and Buoy. "It's pretty wild. He really does think he is a dog," says Caroline. "He [just] doesn't know any different!"
Videos of Marlin following the dogs into the ocean, helping them dig a hole along the beach, or perched on the haul of a skiff cruising through the Pamlico Sound have gone viral in local circles, and have caused even the saltiest islanders to stop scrolling and smile.
Caroline Jarvis is an ocean-loving, nature-seeking, animal-whispering fishing fanatic who owns and operates Caroline Jarvis Photography. She always has her camera in hand, and never misses a beat when following all of her "dogs" and capturing their escapades along the way, including Marlin.
And she attests that the underlying reason why Marlin loves the island life so much, (and all of the adventures that come with it), is simple: He was raised as an islander.
Caroline has a special niche with animals, and they have always been a huge part of her life, as well as a huge part of her photography business. In her lifetime, she has had dogs, cats, squirrels, birds, goats, hamsters, fish, and a host of other critters, who tend to join her on adventures as she and her fiancé float from their Buxton home to their Wanchese home.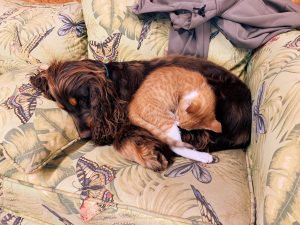 About a year or so ago, after her beloved cat Tuna passed away, she started to ask her fiancé about getting a new kitten to join the family. "[I] kept saying to Mack, 'please, let's get a kitten!' The answer was always no." In response, she left little hints and cartoon doodles of a kitten named "Marlin" on Ziploc bags, on little notes, and in other spots around the house where he was sure to see them, at least a year before Marlin actually arrived.
It was clearly an indication of things to come.
"Mack had seen one of his best friend's wife post that their cat had had kittens, and he sent it to my phone. I was like, 'Wait a second! Marlin!'" says Caroline. "And then three days later, Marlin was brought to us by a friend coming from Columbia, and [he] was delivered to us at the docks while they were loading up the boat for the next fishing trip. Ever since that day, he has been raised by the water, on the boat, with all the dogs, living like a dog. Two days after we got him, he was already swimming in the creek, went on his first fishing trip on the boat, caught a puppy drum and trout, and fell in love with fried deer meat… Oh, and he loves milk, just like his daddy!"
Marlin landed into a big and active family, and there were initial concerns that he might not fit in, or appreciate all the action around him. "Before we got Marlin, we thought it might be hard for a cat to adjust to two different homes," says Caroline. "But he thinks traveling down N.C. Highway 12, going to the beach [and] our two homes, the boat, our parents' houses, and more is all just part of living a cat life. He's just one of the pups!"
Marlin is also always playing with the dogs. The couple technically has three dogs –Buxton, Hattie, and
Shady – although Caroline's parents' dog is a regular member of the gang, and is considered a fourth sibling whenever they are in Buxton.
Hanging out with the dogs is second nature for Marlin, as he follows his older furry siblings everywhere they go, and fits the role of the pesky little brother perfectly. "He will 'hunt' them from across the room, play hide and seek, chase after them, and roughhouse all day long," says Caroline. "It's pretty entertaining. [There's] never a dull moment around here."
And when their expeditions lead them to the beach or the water, other beachgoers can't help but take notice.
"Mack and I can't go anywhere without someone talking to us about Marlin, and how crazy it is to see videos of him swimming and in the ocean with the dogs," says Caroline. "I get stopped on the daily whenever we are on the beach or at the grocery store, [with] people wanting to come meet him and take his picture. It's pretty crazy!
"The best part for me is whenever we see another dog. Marlin wants to walk right up to the dog and rub up against them and be friends, and it scares the life out of other dogs. Marlin is never the timid one."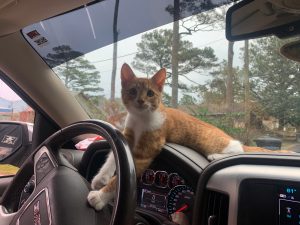 Caroline Jarvis is the epitome of a Hatteras Island Native living her dream, and now Marlin has followed suit.
And although the big family may get some surprised looks and glances when they are barreling down the beach, Caroline – who has always had a connection with animals – simply considers him a part of the gang, regardless of whether Marlin thinks of himself as a cat, a dog, a true Hatteras Islander, or something in between.
"We have created a lot of memories already with our fur babies, and all our adventures," says Caroline. "[And] we couldn't imagine life any other way!"