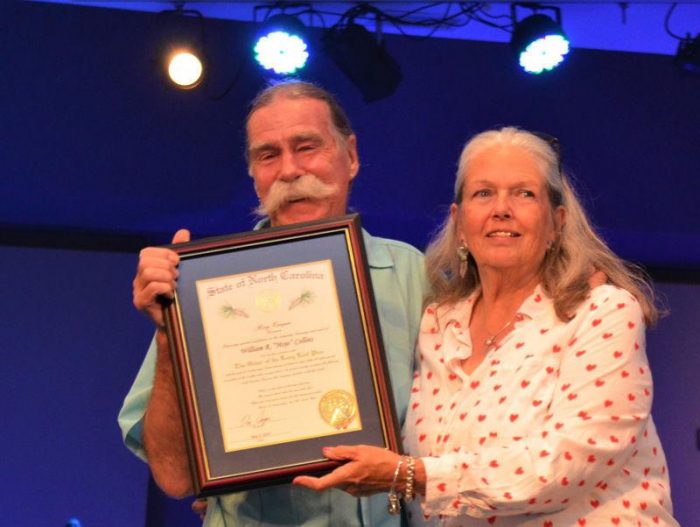 Liberty Christian Fellowship in Colington recently honored one of its long-time members during a special Sunday morning service. Senior Pastor Scott Hobbs had asked local blues musician Bill "Mojo" Collins to perform a couple of worship songs as special music during the service. Collins chose to perform his original work "Love Divine" that was written late one night following one of his blues performances. He also performed "I Believe in You" which was written after receiving word that no one was injured when his son's house burned.
The musician had no idea that the real reason he was asked to the stage this particular morning was to be honored in front of hundreds of his church family and friends.
William R. Collins of Nags Head, known by most in the area by his stage name "Mojo," was presented the North Carolina Order of the Long Leaf Pine. The award was signed by Governor Roy Cooper. Collins was also presented a large framed edition of a recent article published in My Outer Banks Home magazine titled "He's Got His Mojo Workin'".
Collins was joined on stage by his wife Bonnie, who was presented a bouquet of flowers. The couple and congregation enjoyed a video presentation highlighting some of the achievements of his musical career.
The Order of the Long Leaf Pine is among the most prestigious awards conferred by the governor of North Carolina. Created in 1963, it is awarded for exemplary service to the state and the local community and making a significant impact on North Carolina.
Collins' musical career has spanned over five decades and taken him from coast to coast. A U.S. Air Force veteran, he served during the Vietnam War on a missile base in Montana. His professional musical career began during that time.
Collins later moved to San Francisco and became an integral part of the late 1960s and early '70s California music scene, interacting with some of the most notable names in rock and roll history, including Janis Joplin, Jimi Hendrix, Lynyrd Skynyrd, Fleetwood Mac, Santana, Pink Floyd, Steve Miller, the Grateful Dead and many others. Collins organized several bands and was the lead singer and guitarist for The Chosen Few, Initial Shock and Sawbuck.
After seeing the careers and lives of many musicians in California come to a tragic end due to drug overdoses, Collins decided to return to his home state of North Carolina. He eventually moved to the Outer Banks and in 1973 married Bonnie, a former Miss North Carolina contestant. The couple raised their two sons, Scooter Raynor and Shane Collins, on the Outer Banks and in Wilmington.
Scooter and Shane now both reside on the Outer Banks with their families.
Collins has written and recorded over 300 songs during his career. He wrote "Shining Star Over Jockey's Ridge" and performed it at the dedication ceremony for Jockey's Ridge State Park in 1975. Later he wrote "House of Light" and performed it at the rededication and relighting ceremony for the Cape Hatteras Lighthouse when it was moved to its present location in 1999. Collins was the recipient of the N.C. Arts Council Fellowship in Music for Songwriting in 1999-2000.
Collins performs today either solo or with his local band, Triple Vision, joined by brothers Bill and Chris Jolly. To celebrate his 75th birthday in January, Mojo performed at the famed Blue Note Grill in Durham. While recuperating from a heart attack in 2018, Collins began focusing on another talent to earn additional income — painting beach scenes on recycled wood. His artwork is quite popular and in high demand.
After presentation of the award, Pastor Hobbs delivered a message on the importance of honoring God and honoring each other with our lives. The theme was a fitting tribute to Mojo.