Nearly 400 students from around the world keep Food Lion stores on Outer Banks roaring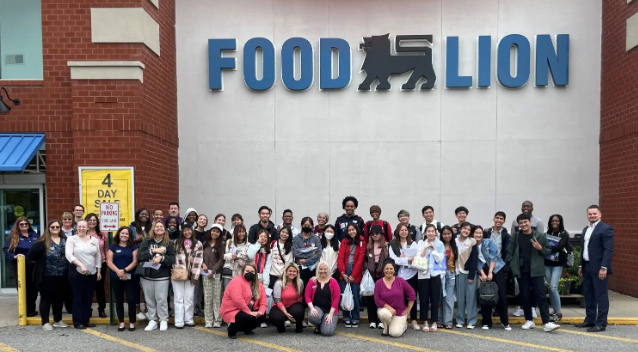 Almost 400 college students from more than a dozen countries spent their summer vacation on the Outer Banks working in a variety of roles with the region's largest grocery store chain.
Food Lion operates six stores on the Outer Banks in Corolla, Southern Shores, Kill Devil Hills, Nags Head and Avon, with over 300 full and part-time employees throughout the year.
But when the summer influx of visitors comes, that means the stores have to ramp up their staffing to keep up.
"The J-1 Exchange Visitor Visa program allows students enrolled in university or college full-time to apply and come to the United States to work during their summer break," said Jessie Calevas, recruiter and manager of the J-1 Program at Food Lion.
To cover all of the resort areas where Food Lion has stores, more than 600 J-1 students were hired this year across the chain, with the majority stationed on the Outer Banks.
"We have 382 students working in our six stores in 2023, which more than doubles the number of associates we have serving customers in the Outer Banks during the busiest summer months," Calevas said.
This year, they employed students from Colombia, the Dominican Republic, Ecuador, Jamaica, Kazakhstan, Mongolia, Nigeria, the Philippines, Poland, Romania, Thailand, Turkey and Uzbekistan.
Food Lion has directly participated in a J-1 program of the last 16 years, including partnering with a company that manages cultural exchange programs since 2016.
Calevas said that Food Lion provides recruiters a set of parameters for the type of workers they need, and then the recruiter sets-up hiring events around the world.
"We require students to speak English and have a good comprehension of the English language," Calevas said. "It's important that students are a good fit for our culture, which focuses on our customers and the towns and cities we serve."
"We also want to set clear expectations of the job for our students, so they are set up for success," Calevas said.
The students work a minimum of 32 hours per week, and across every department in their stores. Calevas noted that the students do not work overnights or alone.
"Safety is of utmost importance when hiring and scheduling," Calevas said.
Since the COVID-19 pandemic, finding workers domestically and internationally has been a huge challenge across all sectors. And Outer Banks businesses felt it the hardest in the summers of 2021 and 2022.
Along with limits set by the federal government on J-1 and other similar worker visas, there were limits and lingering apprehension about travel to-and-from other countries due to COVID-19.
"Before the pandemic, we were always fully staffed in our resort stores," Calevas said. "Over the past few years, we've slowly bounced back and now we are almost hiring at pre-pandemic numbers."
Then there is the Outer Banks' continuing and growing housing crunch.
"Each retail store is responsible for securing housing for students," Calevas said. "Our store managers are strongly tied to our communities, and they have ongoing relationships that make them uniquely qualified to connect with hosts and housing opportunities in their towns."
"We post in-store signage soliciting the community for assistance," Calevas said. "We look for host families and convenient locations for students."
"Because we are hiring students in the towns where we've had stores for decades, we have strong relationships with our government officials, and they have been supportive of Food Lion and all our associates," Calevas said. "But the attractions of a small town can be the things that are also challenging."
Most of the students come from places where public transportation options are readily available, and bicycling and walking are much more prevalent and safer.
"There is no public transportation on the Outer Banks, and this makes it difficult for hundreds of students to get to work, explore…and enjoy their temporary home," Calevas said.
She said more bike paths and sidewalks in the area would help ensure affordable, easy transportation that is safe.
Another concern is potential cultural clashes between young people from other nations and those who are born-and-bred in the United States, but Calevas said they go out of their way to make their student and regular workers enjoy the experience.
"Each summer, this is an opportunity for students to work and live in the U.S., and it's an opportunity for our current Food Lion associates to meet new people and engage with different cultures," Calevas said.
"Outside of work, the students and associates host activities each month such as picnics, bowling, pizza parties, game nights and, of course, anything with food," Calevas said.
"A fan favorite is Food Lion's potlucks in the stores or nearby parks, Calevas said. "These meals bring together our associates so they can share their favorite cuisines."
They also organized a daytrip to Busch Gardens in Williamsburg in July.
"For many international students, this was their first experience at a Pride event, and it's a special experience we are proud to provide," Calevas said.
And while the program allows Food Lion to meet the needs of the thousands of locals and visitors that shop their stores every summer and throughout the year, Calevas said its about more than just stocking shelves and rounding up carts.
"Food Lion associates make sure students are prepared and comfortable in their new homes, especially since some students are leaving home for the first time," Calevas said.
"The program fosters global understanding, builds bridges between cultures and facilitates cultural exchange," Calevas said.