New discovery by Croatoan Archaeological Society helps to further dispel the myth of The Lost Colonists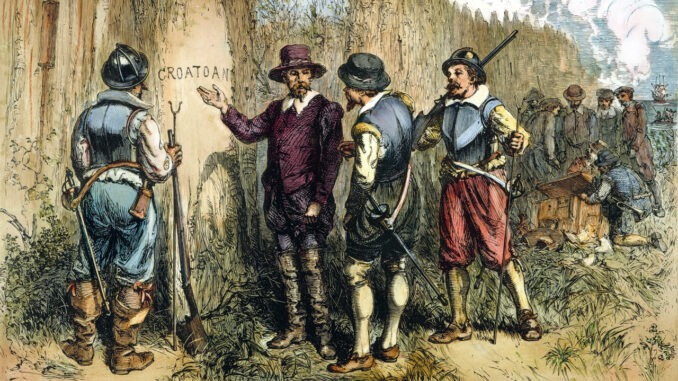 New solid archaeological evidence unearthed by The Croatoan Archaeological Society (CAS) will further help to dispel the myth that over 100 English and Welsh men, women, and children "walked away through the dark forest" in a shroud of mystery and fantasy. They were not lost. They actually left a sign indicating where they were headed.
This latest discovery will show that many —if not all of them—were taken in by the local peaceful Croatoan tribe and led from Roanoke Island to a beautiful paradise called Croatoan. Today, we call this paradise, Hatteras Island.
The latest project was led by Mr. Scott Dawson, CAS President and Founder, author and historian, and executed under the supervision of Dr. Mark Horton, esteemed British maritime and historical archaeologist, television presenter and writer.
The project findings are the subject of a two-hour documentary airing on Science (SCI) Channel on Sunday, May 8, 2022, from 8:00 p.m. to 10:00 p.m. (Eastern). Dawson will also present the findings and hold a book signing on Tuesday, May 17, 2022, from 11:00 a.m. to 12:00 p.m., at the Graveyard of the Atlantic Museum on Hatteras Island, as part of its summer speakers' series.
Recently, Dawson was invited to address academic scholars and the public at a three-day history symposium in Manteo, North Carolina, on the topic of Native Americans and the fate of the 'Lost Colony'.
According to Dawson, "We now have solid evidence-based information and artifacts that Englishmen were living with Croatoan natives on modern-day Hatteras Island in the sixteenth century; not the fifteenth century or the seventeenth century but the sixteenth century."
There was no dispute from the audience that the colonists being 'lost' is a myth that was based on a fictional play, The Lost Colony, and intended to entertain audiences not educate them on the true historical account of what actually happened to the colonists. There was also no dispute that the third attempt to colonize the new world and the fate of the colonists was well documented by first-hand accounts written by Sir John White and Sir Thomas Harriot.
These primary sources explain that the colonists were instructed to leave a sign if they had to leave the settlement: the name of where they were going. If they left under distress, they were to add a cross. When Sir John White returned after a trip to England to replenish supplies, he found the word "Croatoan" carved into a palisade and the letters "cro" carved into a tree with no cross beneath either. Unfortunately, circumstances prevented him from going to Croatoan, modern-day Hatteras Island, and searching for them any further. 
After nearly two decades of research, the Croatoan tribe and over 100 colonists will take their rightful place in history as being found, not lost. "It will be pretty hard to dispute this as anything but fact after May 8th," according to Dawson.
About The Croatoan Archaeological Society 
The Croatoan Archaeological Project (CAP) is an ongoing archaeological research project being conducted on Hatteras Island by Dr. Mark Horton, Professor of Archaeology from the University of Bristol, England in conjunction with the Croatoan Archaeological Society (CAS) in the Smithsonian designated area of 31DR1. The purpose of this project is to learn as much as possible about the history of Croatoan, modern day Hatteras Island, and the inhabitants of said island, via the scientific methods of archaeology. Artifacts are currently on display at the Hatteras Public Library/ Community Building in Hatteras Village, and at the Hatteras Island Ocean Center also located in Hatteras Village. For more information about CAS, visit http://www.cashatteras/index.html. 
About Mr. Scott Dawson
Mr. Scott Dawson is a researcher, author, and President and Founder of the Croatoan Archaeological Society, which has led archaeological excavations on Hatteras Island, a barrier island off the North Carolina coast, to uncover the mystery of what happened to members of "Lost Colony" at nearby Roanoke. His recent book, The Lost Colony and Hatteras Island, documents his team's discoveries over the last ten years. Dawson himself is a native Hatteras Island, having grown up less than a mile from the Croatoan village site. His family can trace their roots on Hatteras back to the 1600's when a Dutchman named Thomas Mueller shipwrecked on the island, was rescued by the Croatoan Indians, and later married a Croatoan woman named Rea. In 2002, Scott received a degree in Psychology with a minor in history from the University of Tennessee. Dawson currently resides in Kill Devil Hills with his wife and two daughters. Previously, he resided on Hatteras Island and managed the local Croatoan Inn and Museum in Buxton.