New Stella Maris Chapel on Ocracoke Island will be dedicated on Tuesday, October 31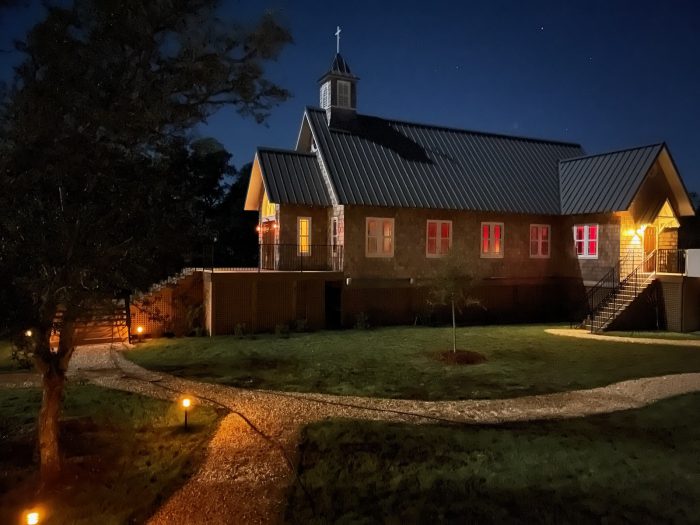 After several years of planning and hard work, the new Stella Maris Chapel on Ocracoke Island will be dedicated on Tuesday morning, October 31.
Part of the Diocese of Raleigh, Bishop Luis Zarama will consecrate the Chapel, while Rev. Jack Kolodziej, OSFS, Provincial, Oblates of St. Francis de Sales, and Fr. Fred Smuda, OSFS (Pastor) will be co-celebrating the Mass on Tuesday at 9:30 a.m. at the chapel's new permanent home at 95 School Road in Ocracoke village.
Seating is limited to only around 90, although there is plenty of space on the grounds to sit outside. Parking is very limited, and organizers suggest that visitors park elsewhere and walk, bike ride, or golf cart to the chapel.
The community and all visitors are also invited after Mass to walk the grounds, pray in the Chapel, and enjoy light refreshments.
The Stella Maris Chapel came to fruition through a December 2021 gift of a parcel of land. Prior to the construction of the new church, Father Fred Smuda of the Our Lady of the Seas Parish in Buxton shared the nearby Ocracoke Methodist Church to conduct services for years.
At about 1,200 square feet, the chapel features heart pine floors, wooden rafters and cedar shingles, and an adjacent parish house. Construction of the new chapel began in the summer of 2022, and was completed by fall of 2023.
The name "Stella Maris" was also thoughtfully planned, and translates to "Our Lady, Star of the Seas" in honor of Mary, (for whom the mother parish, Our Lady of the Seas in Buxton, is also named), as well as the awe that Ocracoke Islanders have for the stars. On Ocracoke Island, the quiet village is blessed to have inherently dark night skies, and the appreciation of the sea and stars naturally aligns in the community.
For more information on the community dedication and open house, visit the Our Lady of the Seas Catholic Parish Facebook page.