November begins with some Easy Deep Space Objects.
There are quite a few bright Deep Space Objects (DSO) in the night skies of November. You can begin by looking for M31, the Andromeda Galaxy, as soon as the skies get dark. Start by looking towards the northeast. Find the large "W" formed by the main stars of the constellation, Cassiopeia. The upper part of the "W" points at M31. The galaxy is located just about due ENE at 8:0 0 p.m.
This bright DSO (Magnitude 3.3) can be seen with the naked eye on very dark and clear nights. You won't be able to make out very much detail, (it kind of appears as a light smudge mark on a dark piece of paper), but there is something satisfying about gazing at an object that's 2.5 million light years away. If you have a good set of binoculars, you'll be able to identify M31 as a spiral galaxy. Many astronomers believe it is very similar to our home galaxy, the Milky Way!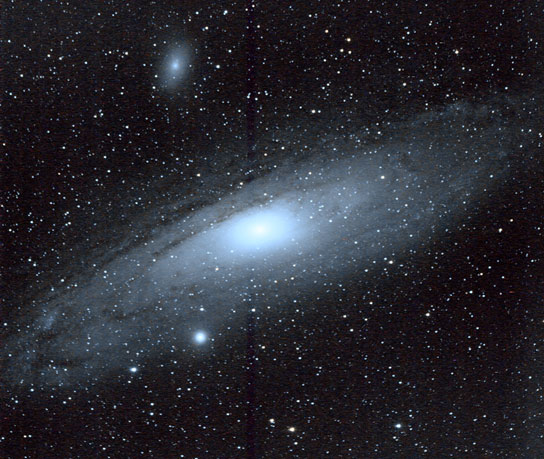 In the SE corner of the evening sky, you can find the Sculptor Galaxy, NGC 253. With a visual magnitude of +7, you'll need binoculars to view this beauty! The Sculptor Galaxy is 12 million light years away.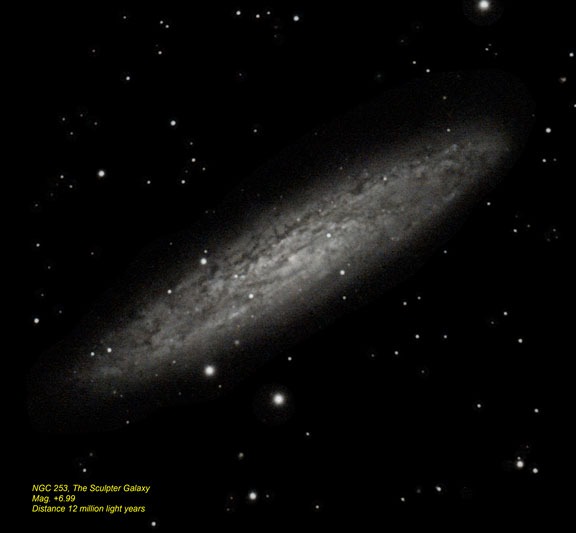 You might want to look for M27, the Dumbbell Nebula, just to the west of the Zenith and almost directly overhead. M27 has a visual magnitude of +7 and is an excellent DSO to view through binoculars. It was discovered in 1764 by Charles Messier. In 1784, William Herschel coined the name "Planetary Nebula" for this object he considered similar to Uranus. (He had just discovered the planet in 1781.) M27 is 1400 light years away from us.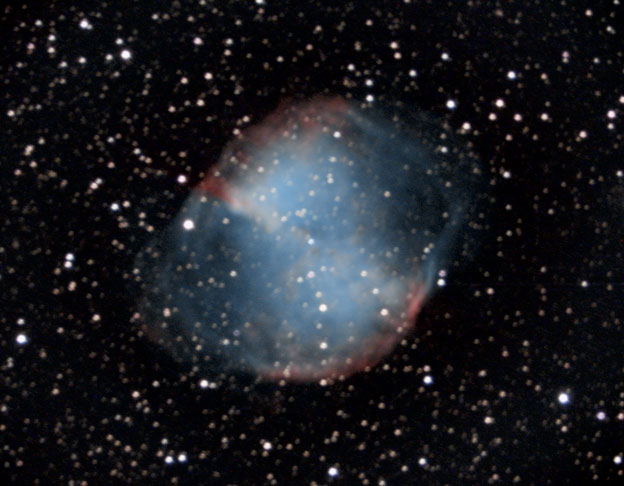 What to look for in November's Night Skies.
Venus and Mercury will be visible near the Western Horizon just after sundown. Jupiter and Saturn are also in the Western skies.
You should be able to see Mars near the Eastern Horizon just before sunrise for most of November. Starting about November 16, you should be able to see Mercury rising just before the Sun.
There are two major meteor showers in November. The Northern Taurids peak on November 11, and the Leonids peak on November 16.
The Northern Taurids appear to emanate from the constellation Taurus. This shower is famous for fireballs, but the moon will be at its full peak, making it difficult to see the shooting stars. You can expect about five shooting stars per hour! Peak viewing begins at midnight.
The Leonids peak about a half week after the Taurids and the viewing will be slightly better. You can expect to see about 15 shooting stars per hour. Like the Taurids, there is a good possibility of a fireball or two. As the name implies, the meteors appear to originate from the constellation Leo. Best viewing is at 5:00 a.m.
Moon Phases:
1st Quarter is November 5
Full Moon is November 12
Last Quarter is November 19
New Moon is November 26