The Perseids meteor shower will become active during the second half of July. Although it peaks on August 13, the best viewing will probably be early in the month, because there's a full moon on August 15. That means it will be very bright on the peak of the Perseids and you won't be able to see a lot of the shooting stars due to the bright moon. The last New Moon was on July 31. That means we will have very dark nights the first week of August and the Perseids are already active. Pick a clear dark night and look directly north. With any luck, you might see a few shooting stars! If you want to improve your chances of seeing the best meteor shower of the year, get away from the village lights! Best viewing is between midnight and dawn, but you might see some shooting stars or a fireball as early as 10 p.m.
This is Messier 20, the Trifid Nebula.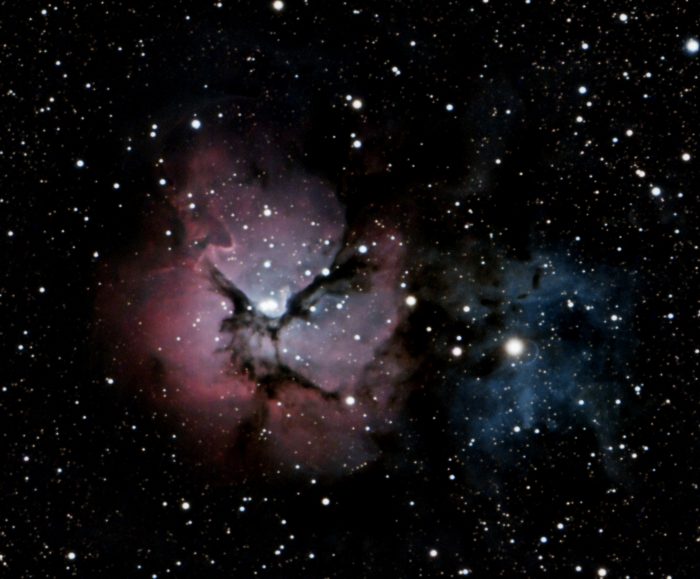 M 20 is about 5.2 thousand light years away from us. As you can see, it's composed of a cluster of stars that are accented by an emissions nebula (red), a reflection nebula (blue), and a dark nebula (the black areas dividing the emission nebula.)
M 20 was discovered by the French astronomer, Le Gentil in 1750. Messier's 1764 catalog describes M20 as "a cluster of stars of 8th to 9th magnitude, enveloped in nebulosity." It is believed that the name "Trifid" was given to M20 by John Hershel in the mid-1800's.
The Trifid Nebula is located in the band of the Milky Way that's currently visible in our southern skies. With a visual magnitude of +6.4, you will not be able to see it with your naked eye, but you might be able to see it with powerful binoculars. It's an easy target for a small telescope. Look in the middle of the imaginary line connecting Jupiter and Saturn, and you should be able to locate the nebula.
What to look for in August 2019.
Jupiter, Saturn, and Pluto will be in the southeast skies of August. Saturn and Jupiter are bright objects. Good luck finding Pluto.
Neptune rises at 9:52 p.m. followed by Uranus at 11:52 p.m. Both are best viewed through a telescope.
About an hour before sunrise, you might be able to see Mercury near the eastern horizon the first few mornings of August. Both Venus and Mars will be obscured by the rising sun.
August starts with the Perseids meteor shower building up to their peak on August 13.  As noted earlier, you might see more shooting star activity during the first week of the month because the full moon on August 15 will make it difficult to see a lot of the peak activity.
Moon Phases:
 New Moon is August 30
1st Quarter is the August 7
Full Moon is August 14
Last Quarter is August 23