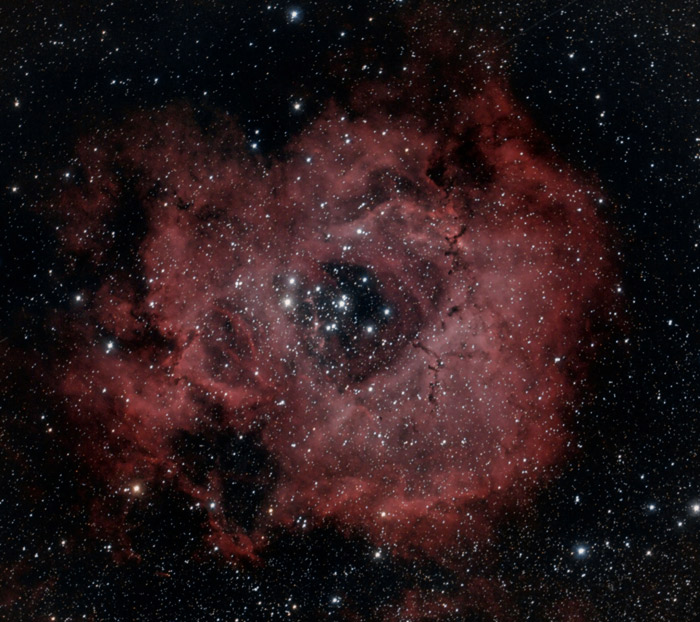 The first thing you might notice about the Rosette Nebula / star cluster is it has a lot of National Galactic Catalog (NGC) numbers associated with it. That's due to different parts of this object being "discovered" by five different astronomers. The star cluster (visual magnitude +5) was discovered around 1690 by John Flamsteed, Britain's first Astronomer Royal. About 100 years later, William Herschel "rediscovered" the cluster.
William Herschel was unable to see the Nebula surrounding his newly discovered cluster. His son John Herschel, Lewis Swift and Albert Marth are all credited with discovering the Nebula surrounding the star cluster. The cluster is designated as NGC 2244. John Herschel is credited for discovering NGC 2239 in 1830, Marth takes credit for finding NGC 2238 in 1864, and Swift takes credit for seeing NGC 2246 in 1886. Collectively, they are all cataloged as NGC 2237, so let's leave it at that!
Located in the constellation Monoceros, (the Unicorn), the Rosette Star Cluster has a visual magnitude of +5.0. The Rosette Nebula has a visual magnitude of +8.8, making it impossible to see with the unaided eye. Both are about 5,000 light years away from us.
On a very clear, dark, and calm night, you might be able to spot the cluster with your unaided eye. Monoceros is located just to the left and slightly below Orion. The cluster is near the center of the line formed by Betelgeuse and Procyon. You will need a low power telescope to spot the nebula. It will look like a faintly-glowing gray circle with a black area in the center. If you want to bring out the red rose of the nebula, you will need to take a series of short photographs, then combine them to filter out the background noise caused by light pollution. The above image is a composite of 20, one-minute exposures.
An interesting aside is that in 1690, John Flamsteed was the first astronomer to record Uranus. He recorded the planet as a star, "34 Tauri." In 1781, William Herschel rediscovered Uranus, and realized it was a planet.
What to look for in March 2019.
Jupiter rises in the East at 2:00 a.m. on March 1. Saturn rises at 3:50 a.m. and Venus will follow at 4:27 a.m. If you have a very, very good telescope, you can try to find Pluto right between Saturn and Venus.
Mars and Uranus are the only two planets in the evening skies of March. Mars is the bright red object about 40 degrees above the western horizon. Uranus is a bit closer to the horizon, but you'll need a good pair of binoculars or a telescope to see it.
There are no major meteor showers in March. But that doesn't rule out the chance of seeing a shooting star or two!
Moon Phases:
New Moon is March 6
1st Quarter is March 14
Full Moon is March 20
Last Quarter is March 28