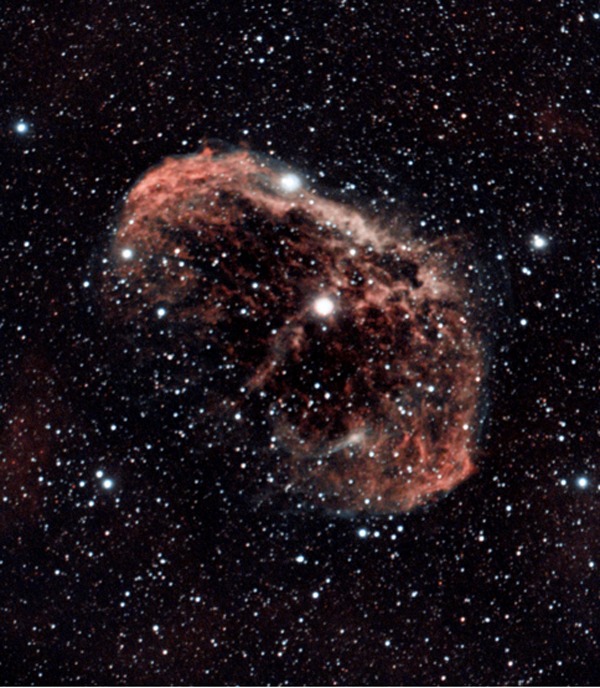 The Crescent Nebula (NGC 6888) is a +7.40 emission nebula that's about 5.5 thousand light-years away from us. William Herschel discovered the Crescent Nebula in 1792.
The Crescent Nebula is believed to be the remains of gas that once belonged to the bright star, HD 192163, near the center of the image. About 400,000 years ago, HD 192163 was a red giant star (similar to Arcturus or Betelgeuse) that reached the end of its life cycle and ejected its outer shell of highly ionized gas. HD 192163 is expected to become a supernova within a couple million years.
This is Messier 57, the Ring Nebula.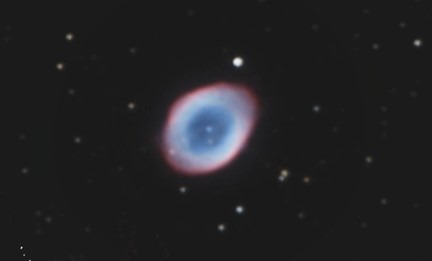 M 57 was discovered in 1779 by Antoine Darquier De Pellepoix. Charles Messier discovered M 57, (without knowledge of De Pellepoix's discovery), just a few days later.
The Ring Nebula is about 1,400 light-years away from us and has a visual magnitude of + 8.8.  Many astronomers think of it as the "prototype of all planetary nebulae," and a growing group of contemporary astrophotographers refer to it as "the Lord of the Rings!"
What you can look for in July's Night Skies
Venus and Mars are prevalent in the western skies shortly after sunset. Venus is the bright object about 10° above the horizon. Mars is significantly dimmer than Venus, a little higher in the sky, and red. On June 1, Venus sets at 10:00 p.m., followed by Mars at 10:19 p.m.
Saturn rises in the east at 10:10 p.m. It's followed by Jupiter at 11:08 p.m.  Neptune rises at 12:04 a.m. With a visual magnitude of +7.9, you'll need a telescope or a good pair of binoculars to spot it. Uranus rises at 2:16 a.m. Under extremely good viewing conditions, you can view this +5.8 gas giant with the naked eye. I prefer to use a telescope.
If you are an early riser, you might be able to see Mercury near the ENE horizon during the first few days of July. If clouds obscure the horizon, look to the SSW for views of Jupiter and Saturn.
The Delta Aquarid meteor shower peaks on the night of July 28. This is an early-morning shower that will appear about 30° above the ESE horizon at 3:00 a.m. The shooting stars will probably be obscured by the waning gibbous moon.
Moon Phases:
Last Quarter is July 1
New Moon is July 9
1st Quarter is July 17
Full Moon is July 23