Dark, clear skies mean great star viewing in December!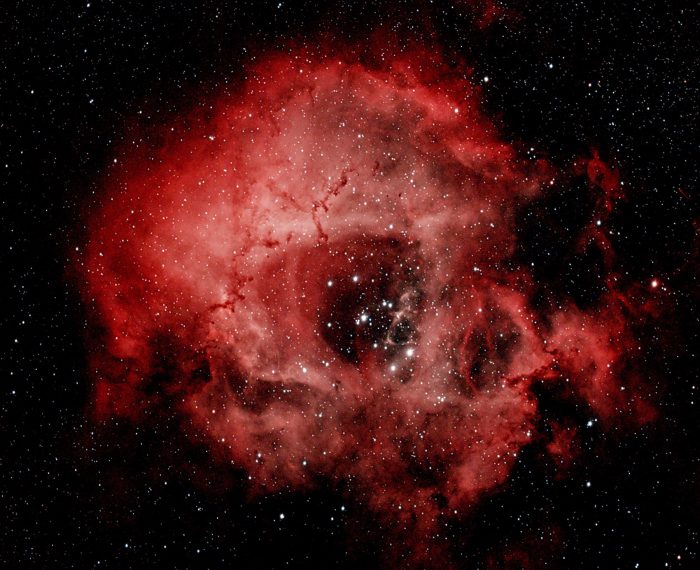 This is NGC 2237, the Rosette Nebula. It's a huge emission nebula with a bright star cluster located at the center. The cluster (NGC 2224) was discovered in 1690 by John Flamsteed, but it took over 100 years before the surrounding nebula was identified. The stars in the cluster were formed from the dust of the nebula.
NGC 2237 has a visual magnitude of +5.5 It's about 5,500 light years away from us and has a diameter of 130 light years.
What you can look for in December's Night Skies
Saturn and Jupiter are still visible in the evening skies, but the proximity of Mars will make it one of the brightest objects in December's skies. On December 1, Mars will be about 50 million light years away from us with a visual magnitude of -1.8. On December 8, it will be slightly closer and in opposition to the sun. Its brightness will increase to -1.9 and will give lucky astronomers a chance to photograph a "full Mars!" I'm praying for clear skies.
December offers two major meteor showers. The Geminids peak on the night of December 13. Look for the shooting stars to originate from the Gemini Twins, Castor and Pollux. The Twins will rise shortly after 7:00 p.m., and with a little luck, you might see some shooting stars as soon as 8:30 p.m. Peak viewing is around 1:00 a.m. The Geminids are active from December 1 through December 24.
The second major shower in December is the Ursids. This shower will peak on December 22 at 5:00 a.m. The shooting stars will appear to originate from the Little Dipper. The Ursids are active from December 13 through December 24.
Moon Phases:
New Moon is December 23
1st Quarter is December 29
Full Moon is December 7
Last Quarter is December 16