Night Sky: Visible galaxies, the Southern Delta Aquariids meteor shower, and other highlights for July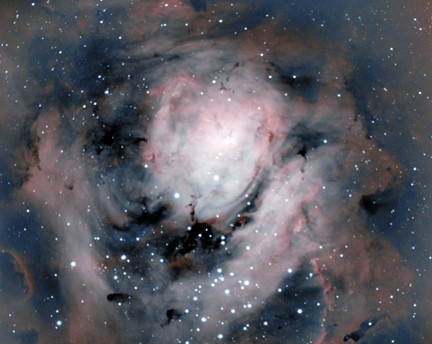 This is M8, the Lagoon Nebula. M8 is about 4.3 thousand light-years away from us and has a visual magnitude of +6.0. It is a star formation area.
M8 was discovered by Giovanni Battista Hodierna in the mid-1600s. Charles Messier cataloged it in 1764.
You might be able to spot M8 with your naked eye on a very clear, dark night. It's also a good target for a pair of binoculars. M8 observation begins in July about 16° above the SE horizon at 9:30 p.m. Look for it in the middle of the bright band of the Milky Way. It climbs to about 30° above the southern horizon just after midnight.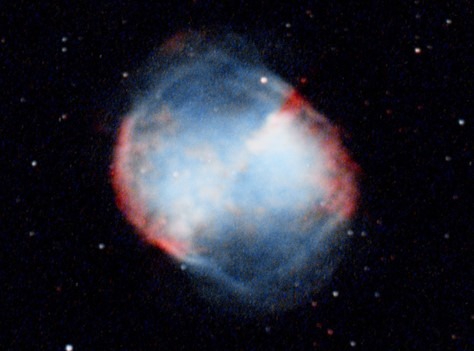 This is M27, the Dumbbell Galaxy. It was discovered by Charles Messier in 1764. William Herschel dubbed it a "Planetary Nebula" in 1784 because it reminded him of Uranus. His son, John, coined the name "Dumbbell" since it resembled the dumbbell shot he used in one of his hunting guns.
M27 is about 1400 light-years away and has a visual magnitude of +7.1. You can view M27 through binoculars or a small scope to find it. You can locate it by finding the "Summer Triangle" which is defined by the stars Vega, Deneb, and Altair. M27 is located about two-thirds of the way down and slightly above the leg from Deneb to Altair.
What to look for in July's night skies.
The early evening skies do not feature any planets, but starting at about 9:30 p.m., the planets slowly start to parade across the sky. Pluto, the dwarf planet, comes first, followed by Saturn, Neptune, Jupiter, Mars, Uranus, Venus, and Mercury.
M31, the Andromeda Galaxy, is a great target for viewing on clear evenings. With a visual magnitude of +3.28 and a surface area larger than the full moon, it can be seen with the naked eye. It's also a very good target for binoculars.
M31 rises in the NE at about 10:30 p.m. You should probably wait about an hour before you start looking for it. With the naked eye, it will appear to be a smudge in the sky – (remember, this galaxy is 2.5 million light-years away!) If you use binoculars, it will be much better defined as a galaxy.
July 28 is the peak of the Southern Delta Aquariids meteor shower! Look for them to rise in the SE at about 10:30 and peak just before 3:00 a.m. in the south. The shooting stars will appear to originate between Saturn and Jupiter.
Moon Phases:
1st Quarter is July 6
Full Moon is July 13
Last Quarter is July 20
New Moon is July 28