Night Sky: Visible planets, minor meteor showers, and more highlights for February
The Other Orion Nebulae!
Last month I showed you the famous Orion Nebula, but the Orion Constellation contains several other spectacular nebulae including the Flame and Horsehead Nebula!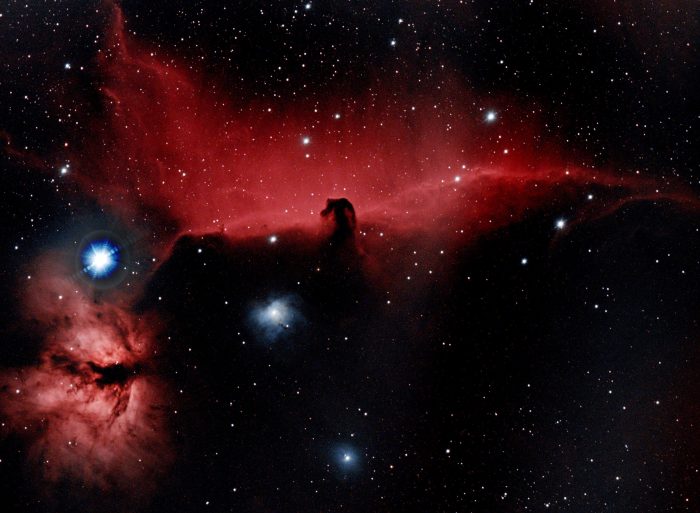 Both of these nebulae are actually composed of two distinct objects. In each case, there is an emission nebula that is partially blocked by a dark cloud of dust. The Horsehead Nebula refers to the dark nebula that obscures a portion of bright emission nebula, IC 434. On the other hand, the Flame Nebula refers to the bright emission nebula, NGC 2024, which is partially blocked by an unnamed dark cloud of dust. Both NGC 2024 and IC 434 are about 1,500 light years away from us. The Horsehead Nebula is about 1,375 light years away from us.
The Horsehead Nebula was discovered by Williamina Fleming in 1888. She discovered it while studying a photographic plate taken by William Henry Pickering.
The Flame Nebula was discovered by Wilhelm Herschel in 1786.
NGC 2024 has an apparent magnitude of +10, while IC 434's magnitude is +7.3. Dark nebula like Barnard 33 are not assigned a magnitude, because they don't emit any light.
The bright star that appears just above the Flame Nebula is Alnitak. It is the left-most star in Orion's belt, and has a visual magnitude of +1.7. It is only 740 light years from us.
There is also a very pretty reflection nebula, just below and to the left of the Horsehead. This is NGC 2023. Its apparent magnitude is +10 and it is 1,500 light years away from us. It reflects the light of HD 37903, the star that appears to be in the center of the nebula. HD 37903 has an apparent magnitude of +7.8. It's about 970 light years from us.
What you can look for in February's Night Skies
If you happen to get up before sunrise, take the time to look at the eastern sky. Venus is the gorgeous, bright star that will immediately catch your eye! Slightly, to the right and a little lower in the sky, you might be able to spot Mars, and if you're really lucky, you'll see Mercury just above the horizon. You don't have to be in a hurry to view these planets, as they'll be visible every clear morning in February. In fact, if you wait until the end of the month, you might be able to catch a glimpse of Saturn. It will appear to be right next to Mercury, but the two are almost a billion miles apart.
In the evening skies, Jupiter will be the only visible planet. Look for it about 10° above the Western horizon.
There is a fairly bright comet, 19P/Borrelly (magnitude +7.9) located 51° above the SW horizon. In theory, we should be able to see it through a good pair of binoculars. But in reality, I've been having a tough time seeing it through my 11" telescope. So far, I have only been able to capture the head of the comet, and a comet without a tail is less than spectacular.
There are no major meteor showers in February, but there are quite a few minor ones. Quite a bit of activity takes place during the first 10 days of the month. Viewing is always best between midnight and 5:00 a.m. Remember, you won't see any shooting stars if you don't look up!
Moon Phases:
New Moon is February 1
1st Quarter is February 8
Full Moon February 16
Last Quarter is February 23