November is a great month to study Jupiter and Saturn!
If the skies are clear on November 1, you will be able to spot Saturn and Jupiter as soon as it gets dark. Saturn will be about 30° above the southern horizon and Jupiter will be about 36° above the southeast horizon.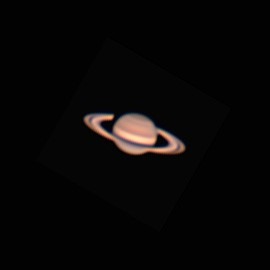 Saturn is the second largest planet in our solar system and the sixth planet from the Sun. It's about 886 million miles from the sun and has a diameter of 72,000 miles. That makes Saturn about nine times wider than the Earth. Saturn is almost entirely composed of hydrogen and helium. It has a surface temperature of -290º F.
Saturn's day is only 10 hours 42 minutes long, but its year is 29.5 Earth years.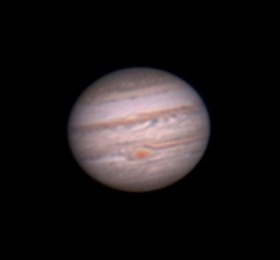 If you can't spot Jupiter, you're either looking in the wrong direction or it's cloudy! With a visual magnitude of -2.9, Jupiter appears to be the brightest star in the sky. If you use a pair of binoculars, the planet is clearly defined and you might be able to spot Jupiter's four large moons: Io, Europa, Ganymede, and Callisto.
Jupiter is the largest planet in our solar system. It's the fifth planet from the Sun and about 484 million miles away from it. Its diameter is close to 88,000 miles. That makes it about 11 times wider than the Earth. It's mainly composed of hydrogen and helium, and has a surface temperature of -160° F.
What you can look for in November's Night Skies
Saturn and Jupiter are not the only planets in the evening skies. Neptune is a bit to the right of Jupiter, and Uranus starts the evening just above the ENE horizon. You'll need either very good binoculars or a small telescope to spot them.
Mars will rise at about 8:40 p.m. It will appear as a bright, red star.
If you can find Mars, it's easy to find the Pleiades and Orion. The Pleiades appears as a tight little star cluster about 10° above Mars. Orion on the other hand is a large constellation that has several famous nebulae.
November offers two major meteor showers. The Leonids peak on the 17th and the Andromedids peak on the 26th. The Leonids will be at their best at about 5:00 a.m. Look for the shooting stars to originate slightly above the rising moon!
The Andromedids might prove to be easier for viewing. They will rise at about 10 p.m. on November 26 in the ENE, and the lack of a moon will make it easier to view the shooting stars!
Moon Phases:
New Moon is November 23
1st Quarter is November 1
Full Moon is November 8
Last Quarter is November 16