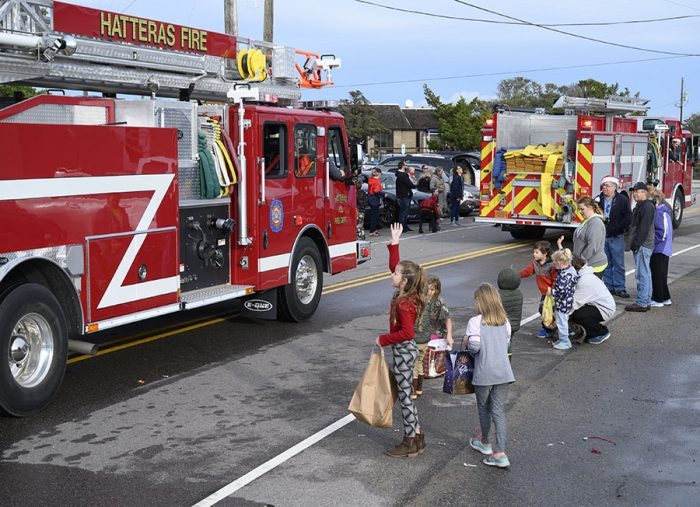 UPDATE: The Hatteras Village Christmas Parade, which is celebrating its 30th year in 2021, has been postponed to 2:00 p.m. on Sunday afternoon, December 12, due to heavy rain in the forecast for Saturday afternoon and evening.
The parade includes cash prizes for first, second, and third prize winners, as well as an additional prize for the most festive golf cart. Entries are currently being accepted for the annual Hatteras Village Christmas Parade, and any organization or group is welcome to sign up, and can do so by emailing hatterasevents@yahoo.com, or by scanning the QR code in the image below.
The parade first originated in 1991 with local fire trucks and emergency vehicles, a handful of impressive floats, a mini horse, and a grand finale of Santa Claus riding high on a boat.
Immediately a big hit with residents and participants alike, there has been a parade almost every year since the original 1991 event, with the exception of post-Isabel 2003, (when there was an "unofficial" parade with Red Hat Society women and a collection of kids on bikes), and 2020, when the parade was canceled due to the Corovirus pandemic.
This year, the parade is once again returning to the village, and the island community is invited to line the streets of Hatteras along the parade route, which extends from Teach's Lair Marina to northern Eagle Pass Road, to watch the floats and catch candy. The parade is always a fun annual event that brings everyone out to celebrate, and Santa's arrival at the end rings in the Christmas season.
Click here to view highlights from the last Hatteras Village Parade, which was held in 2019. For more information on the parade and other Hatteras village events, visit https://www.facebook.com/HatterasVillage/.