Rock the Cape will be held June 1-2; Deadline for artists to register is April 28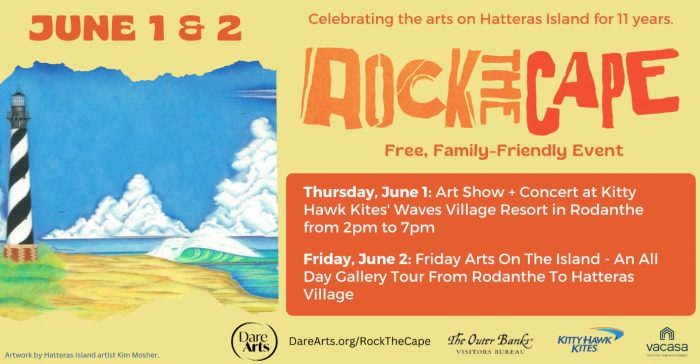 The 11th Annual Rock the Cape will celebrate the visual and performing arts on Hatteras Island June 1-2 with an art show, live music, and a gallery tour.
Artists wishing to participate in the Rock the Cape Art Show can sign up online here. The application deadline is Friday, April 28. Priority will be given to Hatteras Island artists.
On Thursday, June 1 there will be a full afternoon of art and live music at Kitty Hawk Kites' Waves Village Watersports Center at Milepost 40 in Rodanthe from 2 p.m. to 7 p.m. The free, family-friendly event will include an art show, a Hatteras Island musician family jam, plus a live concert with two Outer Banks bands.
On Friday, June 2 Rock The Cape will host Friday Arts on the Island, which is a First Friday tour of the galleries on Hatteras Island. A full schedule of participating galleries and their events will be released soon. The participating galleries will have demonstrations, classes, sales, raffles, music, food and drink, and more happening at their locations.
Businesses interested in sponsoring Rock The Cape should contact Dare Arts Executive Director Jessica Sands at DareArtsInfo@gmail.com.
Rock The Cape was started in 2012 as an initiative to celebrate the galleries, artists, and artistic community on Hatteras Island.
For more information about Rock The Cape, click here or call 252 473 5558.
Dare Arts is a 501(c)(3) nonprofit arts organization dedicated to encouraging the arts in Dare County through advocacy, enrichment, and opportunity.