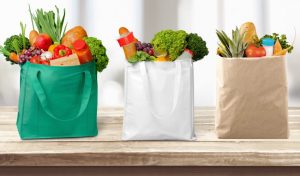 In October of 2017, the North Carolina General Assembly voted to override Gov. Roy Cooper's veto of a bill which had effectively banned single-use plastic bags along the Outer Banks. The law, which had been in place since 2009, had given locals and visitors a respite from the tumbleweed of bags blowing down the beaches and roadways. At the time, it was one of the first laws like it in the country. There are now more than 300 communities in the U.S. which have laws against the bags, as well as eight states, and 55 countries which have banned them altogether.
Both the Dare County Board of Commissioners and the Outer Banks Chamber of Commerce had publicly spoken out against repealing the local ban, but those in Raleigh took the choice away from the Outer Banks communities.
Almost immediately, the plastic was back. Everywhere.
Even the best recycling programs do not accept plastic bags, film or bubble wrap, in their material streams. Luckily, several Outer Banks retailers and a local volunteer group have taken the lead in reducing the single-use plastic bags used locally.
The Outer Banks Women's Club has found a short-term solution. The group is currently working to collect 500 pounds of plastic bags, plastic film, plastic wrap, and bubble wrap, which will be repurposed by Trex Company, Inc. This is part of a community program that the company sponsors.
"We have a member who moved from Smithfield, Virginia, where she was a member of a Women's Club, and they participated in the Trex project there," according to Jo Williams, Environment Vice-Chair.
Trex, makers of composite products including decking and furniture, offers a six-month program to communities to help encourage plastic bag recycling. According to their website, "When you donate your plastic film to NexTrex, not only are you helping to keep thousands of pounds of waste out of landfills, you're also helping Trex to continue to make eco-friendly outdoor products."
The rules are pretty simple. "We ask that clean, dry, and no-food-residue plastic be dropped off in our receptacles. Our members pick up plastic and check that it's clean," Williams explained. "We report our weekly plastic poundage collection on (Trex's) website. Trex has a contract with Harris Teeter to pick up plastic recycling."
At the end of the six months, the group hopes to have reached the 500-pound goal. If so, Trex creates a park bench to mark the milestone, and donates that back to the community.
There are currently three drop off locations for the plastic:
YMCA (3000 S. Croatan Highway, Nags Head)
Baum Center (309 Mustian Street, Kill Devil Hills)
Joe Lamb Realty (4607 N. Croatan Highway, Kitty Hawk)
The six-month Trex project is a volunteer-driven project that has an end point, but local retailers large and small are also involved in reducing the single use plastic waste.
On Hatteras Island, local retailers like Conner's Supermarket, Village Red & White of Hatteras, and Pamlico Deli, (among many others), continue to offer customers paper bags, or encourage reusable ones.
"It's just the right thing to do," said Nick Blaskovics, owner of Pamlico Deli. "It is better for the environment, oceans, and for all of us."
Using paper bags for customers' to-go meals is the more expensive option for businesses, but many local businesses take on the extra cost. "The carry-out plastic bags may not even be a penny each. The paper can be 3-5 cents each," said Blaskovics. "But there are just some things we will never do. Plastic bags and Styrofoam containers are both on the 'no' list at the deli."
The local Food Lion in Avon offers only paper bags for groceries, and encourages customers to use their own bags. In a statement on their website, Food Lion says, "We have increased our annual recycling rate to more than 79% through strategies such as recycling cardboard, plastic bags and commingled recycling. In 2020, we recycled more than 170,000 tons of cardboard and paper and 6,900 tons of plastic. And since 2013, Food Lion has saved an estimated 15 million plastic bags through the sale of more than 5 million reusable bags."
Another large Outer Banks retailer, Harris Teeter, offers customers the choice of paper or plastic for their groceries. The store also offers receptacles outside for plastic bags and film. Regarding sustainability, their website states, "Harris Teeter uses produce bags that are 100% degradable. Harris Teeter uses plant based (non-petroleum) plastic containers for our in-store fresh cut fruit and H.T. Traders salad kits. … Harris Teeter sells reusable bags and encourages its shoppers to use reusable bags as an alternative to paper or plastic."
Publix has a similar option for customers with a choice of paper or plastic. Publix's push is for the use of reusable bags. According to their website, "At Publix, we believe we can do good together by reducing use of paper and plastic bags."
Walmart has several options for retail carry-out bags, depending on the store's location. Some stores have paper, some traditional single-use bags while others offer new, thicker bags, which skirt the single-use rule by being strong enough to reuse. According to Walmart's website, the company's goal is, "Zero waste to landfill and incineration in our operations in U.S., Canada, Mexico, U.K. and Japan markets by 2025."
Both Dollar Tree/Family Dollar and Dollar General offer customers only plastic bags, usually packing one item into each bag. Dollar Tree has just begun to study the problem of sustainability according to their website, "This 2021 Corporate Sustainability Report, and the work that underlies it, marks the launch of a new phase in our journey to improve our processes and disclosures around significant corporate ESG initiatives, particularly DEI and climate change, and deepens our commitment to help create a safer, better, and more sustainable tomorrow."
In February, Dollar General joined the Beyond the Bag initiative. The goal is for retailers to look for alternatives to the plastic bag single usage. From Dollar General's website: "Dollar General will direct priorities and activities for the Beyond the Bag Initiative in the context of the value sector of retail.  DG and its more than 17,000 stores across 46 states will explore viable solutions resulting from the Beyond the Bag Challenge and recommend ways in which these solutions can align with the operations of existing stores and customer needs."
Regardless of which you prefer to carry home, single-use plastic bags are now universally being viewed as a problem for the environment and the corporations which offer them. Public perception of plastic, sustainability of resources, and corporate citizenship are bigger buzz words than ever and are pushing companies to rethink their policies.
In general, reusable bags are the solution most retailers encourage – if you can just remember to bring them in with you when you shop.