What are you serving for Valentine's Day weekend? A special dessert?
I have two choices for you.
One is very rich, sweet and homey. The other is more subdued, lighter, and elegant. Either is a good option for Valentine celebrations.
PANETTONE BREAD PUDDING
Panettone, a cake-like Italian Christmas bread studded with dried fruit, is definitely celebratory.
When sliced and smeared with cream cheese, it is perfect for a holiday breakfast or brunch. Served in the late afternoon, (tea time), or after dinner with a little glass of Amaretto, it satisfies without filling.
But when used in bread pudding, it is sublime!
I am fortunate to have access to fresh eggs, and they really enrich this sinfully luscious dessert.
PANETTONE BREAD PUDDING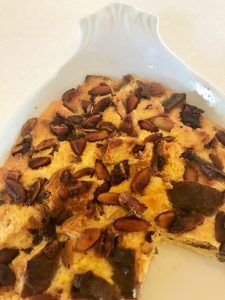 About 1 to 1 1/2 pounds Italian panettone, enough to fill your baking dish without spilling over the edges.
Unsalted butter to grease baking dish
3 extra-large whole eggs
8 extra-large egg yolks (save the whites for further use, such as souffles or meringues. Up to 2 days in fridge, up to 3 months in freezer.)
5 cups half and half
2 teaspoons pure vanilla extract
1/2 teaspoon pure almond extract
1/2 cup sugar
1/3 cup sugared almonds
Amaretto
1. Preheat oven to 350.
2. Cut the panettone into 1 inch cubes. I leave the crust on for texture.
3. Grease 9x12x2 – inch baking dish with the butter. Place the panettone cubes in the dish.
4. In a large bowl whisk together the whole eggs, egg yolks, half and half, vanilla and almond extracts, and sugar. Pour the custard mixture over the cubes and set aside for 10 minutes to allow the panettone to soak up the custard.
5. Scatter the almonds over the top.
6. Place the baking dish into a larger pan (roasting pan works well) and add very hot tap water to the larger pan until it is halfway up the side of the baking dish.
7. Cover the larger pan with aluminum foil, tenting the foil so it doesn't touch the pudding. Cut a few holes in the foil to allow steam to escape.
8. Bake 45 minutes.
9. Uncover and bake an additional 40-45 minutes until the custard is set and the top of the custard is light golden-brown. Do the toothpick test.
10. Remove from oven and drizzle a little Amaretto (to your taste) over the pudding while still warm.
11. Allow to cool for 15 minutes and serve warm or room temperature.
SUGARED ALMONDS
1/3 cup of sliced raw almonds
1/3 cup cinnamon sugar
Melt the sugar in a small skillet (nonstick if you have one) and add almonds over low heat. Stir to coat the almonds and continue stirring until the nuts are toasty brown. They will burn quickly so don't leave the pan unattended. Remove from pan and allow to cool.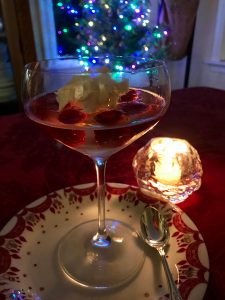 SPARKLY CHAMPAGNE GELATIN DESSERT
Indeed, an Ideal Valentine Treat!
1 bottle rose sparkling wine – Champagne, Prosecco, or Cava
1/2 cup sugar
2 envelopes unflavored gelatin
Whipped cream
Fresh raspberries
1. Pour 1 cup champagne into a medium saucepan. Add the sugar.
2. Bring to a boil, stirring to dissolve the sugar.
3. Remove from heat and let cool.
4. Mix remaining champagne and gelatin in a large bowl. Let stand until gelatin is softened.
5. Stir in the sugar mixture and a handful of raspberries and ladle into individual serving glasses or small bowls.
6. Chill until set, at least 6 hours or overnight.
7. Serve with whipped cream topped with a few fresh raspberries.