REMINDER: 18th Annual HICF 5K Race is returning live and in-person for 2022 on October 8
After going virtual in 2021 due to the Coronavirus pandemic, one of Hatteras Island's favorite fall events is returning live and in person this October, with a couple of unique additions to heighten the excitement.
The 18th Annual Hatteras Island Cancer Foundation (HICF) 5k Race is set for October 8, 2022, and this year's event will be a literal blast, with color stations placed along the Avon route where runners, walkers, and bikers will be "blasted" with color powder.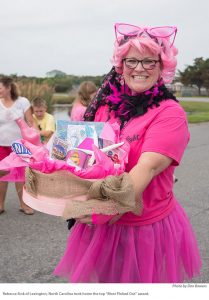 The annual race is one of the primary fundraising events for the HICF, which has been an instrumental organization for the local community for more than two decades.
Founded in the year 2000, the HICF provides assistance to local residents dealing with cancer to help with needs such as travel expenses, prescriptions, and medical supplies, as well as medical bills that are not covered by insurance. Since its inception, the HICF has assisted over 211 islanders with cancer and their families with grants in excess of $1,000,000.
The cost to join in the 5K is $45 in advance, and $50 on the day of the race. The price includes a number of goodies, including this year's HICF 5K T-shirt, a post-race celebration, and an assortment of awards and giveaways.
The course entails a scenic run, walk, or bike ride through a quiet soundside neighborhood of Kinnakeet Shores in Avon. While pink is traditionally the theme for the annual race, this year, folks are encouraged to wear white so that they can showcase the full color blast effect.
Online registration is currently available, and folks can sign up for the October 8 event at https://runsignup.com/race/?raceId=36599. (Bikes start the race at 8:45 a.m., and walkers and runners start at 9 :00 a.m.)
For more information on the HICF, and to make a donation to one of Hatteras Island's most esteemed non-profit organizations, visit https://hicf.org/.