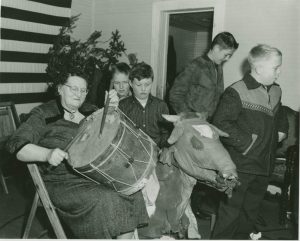 The history of Christmas on Hatteras Island is as rich and diverse as the history of the residents on the island themselves.
European Elizabethan Christmas traditions were introduced to Hatteras not that long after the Italian explorer Giovanni da Verrazano discovered the tiny island and its friendly inhabitants, the Hatterask, Coree, and Croatoan Native Americans in 1524. Soon after this first European account of Hatteras Island, the cultures, traditions, and belief systems of early European settlers rushing to the new world began to blend with natives, castaways, cutthroats, pirates, shipwreck survivors from far-away lands, and scallywags of every variety during the early colonization of the area.
Due to the unique location along the Great Atlantic Trade routes, (and nestled in the heart of the Graveyard of the Atlantic), Hatteras Island became a blended version of the culturally diverse traditions of the early settlers and centuries of inhabitants. Historical Christmas traditions in this area are no different, either, creating a rich history of Christmas traditions that are as unique as the area and people themselves.
The Traditional Elizabethan Christmas of goose, wild boar, and Christmas pudding, (meat and spices with filling made from oatmeal), were brought to the Outer Banks over 400 years ago. The earliest settlers were noblemen who were granted land, castaways from every nationality on the open seas, as well as pirates, salvers, wreckers, shipwrecked sailors, cutthroats, and in the beginning, friendly Native Americans. Early settlers lived in small scattered villages, much like today. They had fenced gardens, and free-range livestock. They scavenged timbers and the cargo of wrecked ships, calling it "availing themselves to make use of unclaimed goods," and not necessarily stealing.
So, it is no surprise, that when Great Britain decided to change from the Julian Calendar to the Gregorian calendar in 1752, news of this change did not reach Hatteras Island for another 100 years. Subsequently, this resulted in 11 days being dropped from September 1752, and Christmas celebrated on December 25, after the change in calendar.  However, due to serious isolation from the rest of the world, at first, the changes went unnoticed, then ignored, and then resisted. Refusing to acknowledge the change, the people of Hatteras Island continued to celebrate Christmas when they always had, in the manner that they always had.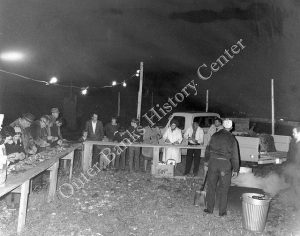 Traditional Elizabethan Christmas blended with the unique beliefs of the hodgepodge of settlers, and they celebrated these traditions with available resources like fresh fish, wild game, oysters and clams, crops that could be grown easily in the harsh soil like potatoes and onions, salted meats, (especially pork), molasses candy pulls, and, of course, strong drinks. As these castaways, cutthroats, wreckers, pirates, and natives gave way to surfmen, Life-saving Station keepers, lighthouse keepers, and the average jack-of-all-trades, Christmas traditions solidified into a blend unique to our region.
Longtime locals attest that the holidays were marked with lots of community dances, and Christmas pageants and plays, where adults and children alike would adorn themselves with colorful costumes. Marksmanship was tested in Oyster Shoots, where men competed against each other for oysters. Handmade drums and fifes were played. Children marched in long processions with mouthfuls of candy pulls made of molasses, and their hands occupied with noisemakers. Islanders carved decoys and toy gifts from shipwreck debris and discarded lifesaving station telephone poles.
"Villagers were awakened by eerie music. The strange notes were produced by serenaders who carried homemade fifes and drums. Behind them marched Sunday School members. Every villager joined in the procession, which by noon had reached a table of monstrous proportions with all the fixin's of Christmas…Prayers were said, and thanks offered for God's bountiful care…Honest, earnest religion was practiced daily." States the NPS publication, Ethnohistorical Description of the Eight Adjoining Cape Hatteras National Seashore and Interpretive Themes of History and Heritage.
With the coming of the coveted positions provided by the federal government, like surfmen and station keepers, came social status, steady pay, local influence, consolidation of the small village schools into the main Cape Hatteras School, the paving of N.C. Highway 12, and a new worldly air gained from off-island tours of duty. Islanders finally embraced "New Christmas" on December 25 in the 20th century, but kept "Old Christmas" on or around January 5. Two Christmases meant that Hatteras Island residents could take turns traveling to visit family that lived far away, or far-flung relatives at other Coast Guard stations could come visit. "They would stop at several houses for hot coffee and cold sweet tater pie." (Midgett 1979, NPS).
"New Christmas" became based more in religion, family, and the Elizabethan-style Christmas traditions, and "Old Christmas" was dedicated to community, and deep-rooted local traditions like annual fistfights. The old-timers say men would come from neighboring areas like Wanchese and Manteo to settle fishing disputes, and they would arrive with bad blood, and leave with a black eye and a clean slate. "Old Christmas" eventually became a holiday unto itself, and many Islanders with deep roots still celebrate two Christmases.
Duck hunting, fishing for blues and Rockfish, oysters on the half shell, singing, dancing, and sending time with friends and family – with enough fun to be had by all – has become the Christmas tradition on Hatteras Island. Each and every family rooted in Hatteras Island sand has contributed a thread to the rich tapestry woven of Christmas past, present, and future here. Our traditions and people are warm and unique because our history is long and diverse.
Merry Christmas from Hatteras Island!