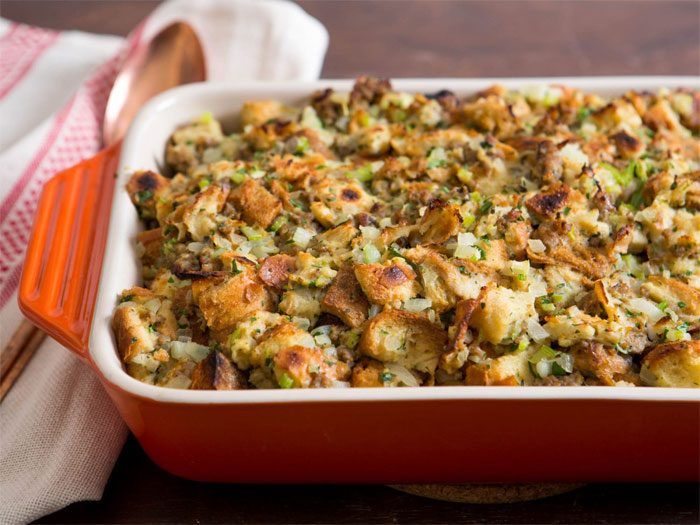 When we think of "home" at Christmas, we most often associate it with food.  Most of our favorite memories are associated with our recipes.  We often get excited about our favorite relatives' showcase casserole, or the award-winning holiday dessert they make that no one else can make quite as well.  Sometimes, families even mark holidays by epic recipe fails, like the year Uncle Jeff ruined the turkey by not reading the directions on Beer Can Turkey, and forgot to open said can of beer before roasting…..  (Don't worry, everyone has an "Uncle Jeff.")
Hatteras Island has a collection of local flavor carved out by over 200 years of traditions and recipes handed down in each family from generation to generation, like priceless family heirlooms, with the origins lost in the sands of time.  These recipes are often cultivated by the same geography that shaped the residents of our region.
Before modern tourism drastically changed the Outer Banks during the second half of the 20th century, we were the poorest region in North Carolina, and our soil wasn't the most fertile.  The bounty of the sea, and what crops would grow in our harsh island soil with the right seeds and chicken fertilizer, plus what crops could be stored (before refrigeration) on a skiff navigating the sound from the farmlands inland, like the Currituck Farmlands, shaped the local flavor and recipes – (and let us not forget salted pork, aka bacon.)  Orville Wright wrote to his sister in a letter home, during his adventures in Kitty Hawk, "You never saw such poor, pitiful looking creatures as the horses, hogs, and cows down here." As such, most true local recipes are simple, hearty, and nutritious.
So whether you are on Hatteras Island for Christmas or just want to feel like you are on Hatteras Island listening to the waves pound the shore with the wind whipping past your windows, here are some heartwarming traditional, local recipes for your families Christmas Feast.
Oyster Stew
Ingredients:
1 Pint Oysters, shucked (reserve the liquid/juice)
Enough water to cover
1 Stick of Butter
1/2 cup – 3/4 cup Heavy Cream
Salt and Pepper to taste
Directions:
In a medium saucepan add oysters, reserved oyster liquid, butter and just enough water to cover. Bring to a boil and then lower the heat. Add heavy cream and salt and pepper. Stir repetitively while simmering for 2 minutes. Allow to sit for a few minutes to thicken. Stir well and serve with oyster crackers or saltines. Yields two servings.
Hatteras Clam Chowder
Ingredients:
Little neck clams are considered the best. They're the smallest and are thought to be the most tender. Whether it's a little neck, cherrystone, top neck or quahog, they're all the quahog species of clam. It's just a question of size.
If going for fresh, about 100 little neck will be needed. Chowder clams (top neck) are larger.
4 cups shucked clams and juice (about 24 chowder clams)
3 cups diced potatoes
2 cups diced onions
1 cups water
6 pieces bacon, fried and grease rendered
Preparation:
Chop clams, drain juice and save it.
In a large pot, add water, clam juice, potatoes, onions and grease.
Bring to a boil until potatoes are tender crisp.
Add chopped clams and simmer for about 20 minutes.
Add salt and pepper to taste.
Many recipes call for sautéing the onion in the bacon grease first. Classically only salt and pepper are used to season this.
For a little different flavor, fresh thyme adds a subtle herbaceous touch, and more bacon can also be added if preferred.
Hatteras Baked Rockfish
Ingredients:
Rockfish ( or fish of choice) cut in steaks for fillets.
Salt pork-diced
Potatoes-sliced
onion – sliced
salt
pepper
sunflower oil ( or veggie oil)
Place fish in bottom of 9 x 13 greased casserole dish.  Salt and pepper the fish.
Fry out salt pork pieces in a little oil until light brown and crisp. Removed salt pork from oil. Add sliced potatoes and onions to oil from salt pork. Salt and pepper. Cook until potatoes are tender. When tender remove potatoes and onions and place over fish in casserole dish.
Drizzle some of the oil from reserved from frying the potatoes and onions over the casserole. Top w/ the fried pieces of salt pork. Cover w/ aluminum foil. Bake in pre-heat oven on 350 for 30 minutes. Enjoy
Oyster Dressing
Makes: 8 to 10 servings
Prep 20 mins
Bake 350°F 30 mins
Ingredients
1/4  cup butter or margarine
½ tsp garlic, minced
1  medium onion, coarsely chopped
2  stalks of celery, coarsely chopped
1/2  teaspoon  freshly ground pepper
1  14 oz package of pre-seasoned bread cubes (Recommended: Pepperidge Farm® Herb Seasoned Stuffing)
1  pint  shucked oysters, strained
2-1/2 cups chicken stock
Directions
1. Melt butter in a large skillet over medium heat. Add onion, celery and garlic; sauté until onion and celery are tender. In a very large bowl, combine sautéed vegetables, pepper and stuffing mix; set aside.
3. Strain oysters in a large colander. Thoroughly rinse oysters under cold running water to remove any sand or shells. Once fully cleaned, coarsely chop. Add oysters to bowl with stuffing mixture.
4. Stir chicken stock into stuffing mixture. Cover and bake casserole at 350° for 30 to 35 minutes or until casserole is golden brown. Makes 8 cups (8 to 10 servings).
Collard Dumplings
 For The Collards
4 Bundles of Fresh Collards
3 Fingers of Salt Pork
½ cup Sugar
Salt/Pepper (to taste)
Pinch of Baking Soda
For the Dumplings (Makes 5)
1 cup White Cornmeal
¼ cup of White Flour
1 tbsp Shortening
1 tsp Salt
½ – ¾ cup Hot Water 
Preparation:
Thoroughly wash the collards with cold water. Repeat three times. Freeze before cooking.
NOTE: Ol' timers insist it takes three washes to breakdown/soften the collards. By the third wash your water will be green. Freezing them is supposed to rid the collards of any bitterness.
Directions:
-In a large pot, lightly fry the salt pork. Once cooked, add enough water to cover the collards without adding them to the pot. Add the ½ cup of sugar and then season with salt and pepper to your preference. Add pinch of baking soda and bring water to a boil before finally adding the collards. Add lid and cook for roughly 4 hours until tender and dark green.
-In a separate bowl, combine dry ingredients and shortening. Slowly add hot water to mixture until desired texture is achieved. You want the mixture to be moldable, not runny. Once complete, wet hands with cold water and pat out the dumplings.
-Once collards are fully cooked, remove half of the collards and add dumplings one at a time. They will take approximately 20 minutes to cook.
Southern Corn Pone Bread
Yield: 8 servings
¼ cup canola oil
1 ½ cups white cornmeal
1 ½ teaspoons salt
2 eggs
1 1/3 cups buttermilk
Preheat oven to 425 degrees. Place a 9-inch cast-iron skillet on the center rack.
When the skillet is hot, carefully remove the skillet from the oven. Pour the canola oil into the skillet and gently swirl the pan to coat the bottom and the sides. Return the pan to the oven for 10 minutes.
While the oil is heating, mix together the cornmeal and salt in a medium bowl. Add the eggs and buttermilk and mix together to make a thin batter.
Carefully pull out the rack with the cast iron skillet and pour the batter into the preheated skillet.
Bake the corn pone until a toothpick inserted into the center comes out clean, 20 to 25 minutes. If desired, turn the oven to broil for the last few minutes of baking to brown the top.
Remove the skillet from the oven and shake the pan to loosen
Southern Brussel Sprouts
1 1/3 pounds fresh Brussels sprouts, about 30 medium
3 Tablespoons unsalted butter
½ cup pecan halves
½ teaspoon coarse salt
1/8 teaspoon freshly ground black pepper
1 Tablespoon fresh lemon juice
Directions
Wash and trim stem end of Brussels sprouts and remove the outer leaves. Slice Brussels sprouts in half and transfer them to a large saucepan. Add water to a depth of one-half inch.
Cover, bring to a boil, and reduce the heat to medium. Steam the Brussels sprouts 4 to 5 minutes, or until they are tender when pierced with a sharp knife. Remove them from the heat, drain, and set them aside to keep warm.
In a large skillet, melt butter over medium-low heat and add the pecans. Cook several minutes until the butter begins to brown and the pecans are hot. Add the cooked Brussels sprouts and toss gently to coat them with brown butter. Cook 5 minutes, stirring frequently, to prevent the butter from burning. Season them with salt and pepper, and sprinkle with lemon juice. Serve immediately.
Hatteras Fig and Whiskey Cake
(Featured in "Our State Magazine" Community Cookbook series from Churches and Community Centers)
Ingredients:
1½ cups sugar
3 eggs
1 cup oil
1 teaspoon vanilla
½ cup buttermilk
2 cups all-purpose flour
1 teaspoon salt
1 teaspoon baking soda
1 teaspoon nutmeg
1 teaspoon allspice
1 cup fig preserves
1 cup nuts, preferably pecans or walnuts, finely chopped
½ cup whiskey (some people prefer rum)
Directions:
Preheat oven to 325°. Grease and flour a 10-inch tube pan. In a large bowl, cream together sugar, eggs, and oil. Stir in vanilla. In a small bowl, sift together the flour, salt, soda, and spices. Alternately add dry ingredients with buttermilk to egg mixture, mixing well. Beat in fig preserves, nuts, and whiskey. Pour into the prepared pan, and bake for about one hour, or until an inserted toothpick comes out clean. Cool on a rack, then remove from pan. Serve warm.
Southern Little Layer Cake
(Every Southern Grandma, Memaw, or Mamaw had there own unique version of this cake in various numbers of layers.)
Serves 12 (serving size: 1 slice)
Active 1 hour 30 min. Total 2 hours
Ingredients:
24    oz. evaporated milk
6    cups granulated sugar, divided
1    cup unsweetened cocoa powder
3    Tbsp. light corn syrup
1    tsp. Kosher salt, divided
2 ½    cups (5 sticks) unsalted butter, softened, divided
6    large eggs
3    tsp. vanilla extract, divided
4 ½    cups soft winter wheat all purpose flour, such as White Lily
2    Tbsp. baking powder
2    cups whole milk
Cooking spray
9    8-inch round disposable aluminum pans
18    8-inch rounds parchment paper
Preheat oven to 425°. Prepare 9 8-inch disposable aluminum pans with cooking spray and rounds of parchment paper.
To prepare icing, in a large saucepan, whisk together evaporated milk, 3 cups sugar, cocoa powder, corn syrup and ¼ teaspoon salt over medium heat. Attach a candy thermometer to pot and cook, whisking occasionally, to just at soft ball stage (234-236°F), about 15 minutes.
Meanwhile, cream 1 ½ cups (3 sticks) butter and remaining 3 cups sugar using a large heavy duty stand mixer. Add in eggs, 2 at a time, until well incorporated, about 2 minutes. Add in 2 teaspoons vanilla. Sift together flour and baking powder in a medium bowl. Add remaining ¾ teaspoon salt to sifted flour mixture. Add flour mixture and milk alternately in 3 additions, beginning and ending with flour mixture. Scrape down sides of mixer bowl with a rubber spatula and mix to incorporate fully, about 1 minute.
Once chocolate icing reaches soft ball stage, reduce heat to simmer and add remaining cup (2 sticks) butter and remaining teaspoon vanilla. Stir to melt butter, about 2 minutes. Maintain a very low simmer until first round of cake layers are out of oven.
Using a kitchen scale, add 4 oz batter to each prepared pan. Using an offset spatula, spread batter as evenly as possible on bottom of pans. Bake 4 layers at a time for 5 minutes in preheated oven. Remove from pan by placing a wire rack on top of pan and inverting pan to release cake layer. Remove parchment from cake layer and place first layer on cake stand. Remove icing from heat.
To assemble cake, pour about ¼ cup hot icing onto first cake layer, just enough to make a very thin layer of icing, but not enough to seep over sides of layer. Repeat with remaining 7 layers.
Prepare same cake pans with more cooking spray and rounds of parchment; weigh out 4 oz batter for each pan and spread layers as before. Bake 4 layers at a time for 5 minutes in preheated oven; continue layering cake with icing and baked cake layers. For top layer of icing, pour enough icing over top to seep over sides of cake. Use an offset spatula or small rubber spatula to spread a generous layer of icing to fully cover sides and top of cake. (Icing will be thicker at this point, and you will have some leftover). Let cake set at least 30 minutes or up to 1 day before slicing.