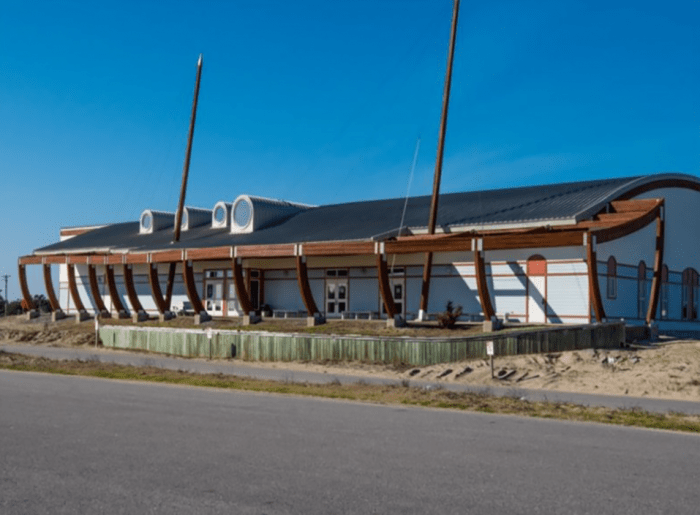 After a two-year hiatus, the Underwater Heritage Symposium is returning to the Graveyard of the Atlantic Museum on April 2, with a host of unique presentations and speakers lined up for the full-day event.
During the Symposium, which runs from 10:00 a.m. to 5:00 p.m., speakers will shed light on a range of island-centric topics, including Civil War shipwrecks, World War II submarine losses and related research, underwater photography, and diving experiences.
This is the first time the museum will host the event after COVID-19 precautions led to the cancellation of the 2020 and 2021 programs. The event had previously been an annual springtime tradition since 2013.
"We are excited to welcome the professional divers, underwater archaeologists, underwater photographers, and maritime historians back to the museum," stated Museum Educator Mary Ellen Riddle. "The presentations feature awesome photography presented by individuals who have access to images not generally seen by the public."
The program is free to attend, and the talks are designed to appeal to professionals and everyday visitors alike.
The schedule and list of speakers for the April 2 event is outlined below. For more information on the event, call 252-986-0723.
SCHEDULE
10 A.M. Welcome: NC Maritime Museums' System Executive Director, Joseph Schwarzer
10:15: Marc Corbett: Civil War-era Shipwrecks: There are numerous vessels from the Civil War in the waters just off the Outer Banks. Marc will explore some of these sites and talk about additional sites that have yet to be located.
11:15: Hal Good: Oil and Sugar…Not so Sweet: An Exploration of the Wrecks of Dixie Arrow and Manuela. During the month of March 1942, the American steam tanker Dixie Arrow was approaching Diamond Shoals when it was torpedoed by U-71.  The Arrow was loaded with over 86,000 barrels of crude oil that set the ship ablaze and spread across the water. Three months later, the American steam merchant Manuela was proceeding north in a convoy.  She was loaded with 6,500 tons of sugar.  On June 25th she was hit by a torpedo fired from U-404.  Manuela remained afloat for almost 24 hours before sinking south of Hatteras. This presentation will review details of both sinkings as well a photo review of the wrecks today.
Noon – 1 p.m. Lunch
1:15: Paul Hudy: Beneath the Killing Sea: An exploration of marine life that blossoms on the shipwrecks off our NC coast.
2:15: Mike Lowery: Research and Discoveries Update on WWII Submarine Loss: The Outer Banks was just the edge of WWI U-boat operations but very much in the eye of the storm of German submarine operations in WWII. There's a popular perception that the submarine wars are very well understood — we know what happened, including how each individual submarine was lost. That's not true — lots of submarines remain unaccounted for. Mike works closely with divers and others to find and identify such missing submarines. He will share some of the progress made and challenges that remain in this field.
3:15: Dave Sommers: Steamers of Diamond Shoals
From the late 1800s to the first part of the new Century numerous Steamers met their fate on Diamond Shoals off Cape Hatteras.  Dave will examine why this occurred and discuss a few of these shipwrecks, which we can still dive today.
SPEAKER BIOS
Marc Corbett: Marc Corbett combined a love for history and SCUBA diving to become a shipwreck hunter researching and exploring wrecks in shallow and deep water. He will soon be publishing a book on nearshore wrecks. Marc is also an underwater photographer whose work has been on display at the Graveyard of the Atlantic Museum and has appeared in multiple publications. He has lived on the Outer Banks of North Carolina since 1994 and is an avid surfer and skateboarder. Marc has a BS in biology from Virginia Commonwealth University and is a carpenter by trade. He also works on the dive boats Lion's Paw and Under Pressure out of Hatteras inlet.
Hal Good: Hal Good has been diving for 50 years and has visited over 100 different shipwrecks including E.M. Clark, USS Monitor and Andrea Doria. He is a retired Director of Marketing for a scientific instrument company. In addition to diving and photography, he enjoys traveling, music, and drinking craft beer.
Paul Hudy: Paul Hudy grew up on Sea Hunt and Jacques Cousteau and has been a certified diver since 1979. He got certified off the North Carolina coast and has been diving there ever since. He loves the marine life and big pelagic fish and sharks that frequent our shipwrecks. Paul took up the curse of underwater photography in 1993 and occasionally gets lucky and something cool swims in front of his dome lens.  Paul originated and maintains the nc-wreckdiving.com website and has organized NC dive charters for the BFDC for well over 30 years.
Mike Lowery: Michael Lowrey is a recognized expert on World War I U-boats who handles much of the Great War material for the uboat.net website.  He has spent 20 years researching the subject and maintains an online database of the 7,500+ ships sunk, damaged or captured by German and Austrian submarines during the war.  He reads German and uses U-boat war diaries and Allied documents to correct misattributions and solve ship disappearances.  Mike regularly applies his knowledge, working with hydrographic agencies, maritime archaeologists, and divers to help identify World War I submarine wrecks and understand the circumstances surrounding their loss.
Dave Sommers: Captain Dave Sommers has been an active shipwreck diver exploring and documenting the shipwrecks off the North Carolina coast for over 30 years. Dave and his wife Ann, also an experienced diver, operate Dive Hatteras, LLC, a business providing dive charter services from Hatteras, NC. He has amassed hundreds, if not thousands, of days of experience diving shipwrecks of the North Atlantic, and sport diving at various locations in the Caribbean and the Eastern Pacific.