Wienermobile pays a visit to Hatteras Island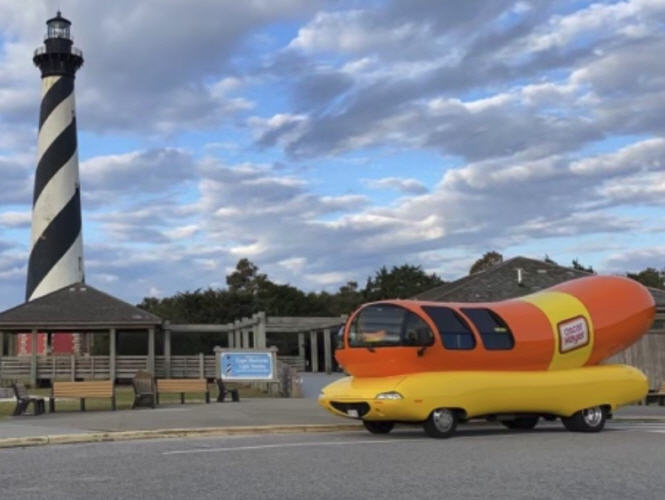 A number of Hatteras Islanders were surprised on Monday morning when they had an unexpected encounter with one of the most famous vehicles to cross the Basnight Bridge – The Oscar Meyer Wienermobile.
There are currently six Wienermobiles cruising around the country, and they are all manned by "Hotdoggers" who take to the road to share the joys of hot dogs, and the inherent excitement of spotting a Wienermobile to begin with.
It's a tough job to land, and thousands of people apply for the opportunity to take to the streets in the giant hot dog, and to share their adventures via social media and surprising in-person encounters.
There's a reason why everyone is familiar with the concept of the Wienermobile, too. Its prototype was created around 1936, and despite a few setbacks over the decades – (like a fuel shortage that kept the Wienermobile off the road during World War II) – the now famous hot dog-topped vehicles have more or less been joyriding across the country for the last 87 years.
The Wienermobile paid a visit to the Cape Hatteras Lighthouse on Monday, but it didn't stick around on Hatteras Island for too long, as it has upcoming engagements in the western part of North Carolina.
Nevertheless, the Weinermobile's Hatteras Island joyride certainly made many islanders' Instagram and Facebook feeds a little more interesting, and spiced up an otherwise typical Monday morning.
To check out the Weinermobile's upcoming schedule, click here.