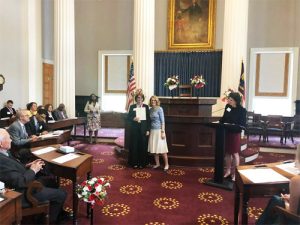 Hatteras Island resident Wendy Sisler received the Governor's Medallion Award for Volunteer Service from First Lady Kristin Cooper on Monday afternoon at a special ceremony that was held at the Old Capitol House Chamber in Raleigh, N.C.
The Governor's Medallion Award in Raleigh is only given to approximately 20 recipients in the entire state, and Sisler also received the 2019 North Carolina Governor's Volunteer Service Award at the April 15 Dare County Board of Commissioners meeting in Manteo.
Sisler was honored for her efforts to establish the new PORT Health in Hatteras village, which provides substance abuse and mental health services on Hatteras Island. The years-long project stemmed from the loss of her son, Cory Stowe Sisler, who passed away in December of 2017 after a long struggle with addiction.
In the months and eventual years that followed, Wendy spearheaded a movement to make substance abuse treatment more accessible for islanders, which eventually resulted in the opening of the mental health center in November of 2018, as well as roughly $22,000 raised in supporting funds,.
Sisler was nominated for the award by Michelle Hawbaker from PORT Health, who worked with her to launch the mental health center from the earliest stages.
The Governor's Volunteer Service Award honors the true spirit of volunteerism by recognizing individuals, groups and businesses that make a significant contribution to their community through volunteer service.
The Governor's Medallion Award for Volunteer Service was implemented in 2006 to recognize the top 20-25 volunteers in the state. Medallion recipients are nominated at the county level by the county award coordinator, and only one Medallion nomination is permitted per county. A statewide panel reviews and evaluates all these nominations to determine the award recipients.