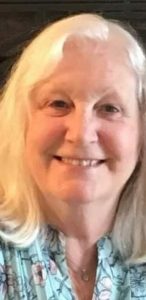 Carole Daughton Mulhearn passed into the universe on October 26, 2022. She was at home in Kitty Hawk and surrounded by her loving family.
Carole was born in Binghamton, New York on April 6, 1953, the daughter of John and Mary Daughton. She graduated from Maine-Endwell High School in 1971 and received a BA in English from Elmira College in 1975. After graduation she moved to Alexandria, Virginia and took a position as a writer, where she met her future husband, Tom Mulhearn. They married in 1978 and moved to Lynchburg, Virginia, where their first daughter, Meghan, was born. After returning to the DC area they moved to Montgomery County, Maryland where their second daughter, Julie, was born.
In 1994 they moved to the Outer Banks and made their home in Kitty Hawk.
Carole developed friendships all over Northeast North Carolina for her leadership of the Weight Watchers meetings in Kill Devil Hills, Kitty Hawk, Manteo, Elizabeth City and Camden. She was a very kind and effective teacher and counselor who was beloved by all. Years after leaving Weight Watchers she was often stopped and thanked by previous members for her kindness.
She developed a cadre of friends all over the country and abroad, with whom she had close and lasting relationships. Carole loved traveling and took many trips with her family, including to Ireland, Greece, the Mediterranean, the Holy Land, and many others. She was a dedicated cruiser and was very happy on the deck of a cruise ship.
Carole was the beloved wife of Tom Mulhearn and Mom of Meghan and Julie Mulhearn. She leaves behind a brother and sister in law, Robert and Carol Daughton of Athens, New York; her sister in law and great friend, Alison Willis, and brother-in-law Mike Willis. She also leaves behind nephews Michael Willis and Jed Daughton.
Carole was a member of Holy Redeemer Catholic Church in Kitty Hawk. A memorial service will be held at a later time. We are devastated by her passing, but are comforted by the fact that she is with God and has crossed to a better life with no pain.
In her memory, contributions can be made to the new Outer Banks Hospital Cancer Center.
"Say not Goodnight, but in some brighter clime bid me good morning."
Please share words of comfort with the family at https://gallopfuneralservices.com. Gallop Funeral Services Inc. was entrusted with arrangements.