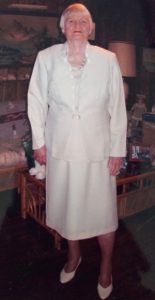 January 17, 1924 – November 30, 2021
AVON — Elsie Louise Scarborough Sawyer, 97, of Avon, NC died Tuesday, November 30, 2021, at The Outer Banks Hospital.
A native of Kinnakeet, she was born January 17, 1924, to the late Edna Midgett Scarborough and Walker Blaine Scarborough.
Elsie was a homemaker and a member of St. Johns United Methodist Church.
In addition to her parents, she was preceded in death by her husband, James Edward Sawyer; a daughter, Baby Sawyer; a son, Robert Sawyer; two sisters, Holland Brothers and Irma Scarborough; and a brother, Walker B. Scarborough, Jr.
Elsie is survived by two nieces, Sandrea Brothers and Verna Antonen and husband Tony Antonen; a nephew, Eric Brothers and wife Andrea Brothers; and many great and great-great-nieces and nephews.
A funeral service will be held at 11:00 am on Saturday, December 4, 2021, at St. Johns United Methodist Church with Rev. Gina Miller officiating. The family will receive friends and relatives one hour prior to the service and for a reception following the service. Private burial will take place in the Scarborough Family Cemetery.
To plant a tree in memory of Elsie or send flowers to the family, please visit www.TwifordFH.com/send-flowers.
Twiford Funeral Homes, Outer Banks is assisting the family with arrangements. Condolences and memories may be shared at www.TwifordFH.com.