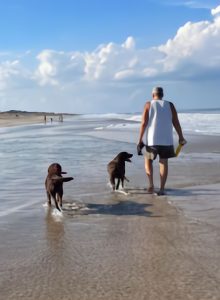 James Campbell, 65, of Kitty Hawk, NC passed away on November 2, 2023 in his home surrounded by his wife in his most favorite place. Born in Ilion, NY on November 26, 1957. Jim was preceded in death by his mother, Evelyn Cressman Campbell and father James D. Campbell III of Pennsylvania; granddaughters, Helen Rhodes Fox and Charlie Marie Fox; and his cherished Labradors, Midnite, Claire, Kodiak, Teq, and Kona.
He is survived by his wife, Elaine Gilewski Campbell; daughter, Laura Marie Campbell Fox husband, Robert Fox, and daughter Madison Marie Fox; his dogs, Sawyer and Meadow; sister, Susie Merrill and husband Sid Merrill; brother, Doug Campbell and wife Lynda Campbell; sister, Betsy Hussey and husband Leo Hussey; and nieces Jennie, Krisi, Katie, Jess, and Alexa.
Jim was a graduate of Widener University. He continued his graduate education at Johns Hopkins Whiting School of Engineering earning a Master's in Mechanical Engineering. He worked as a Mechanical Engineer and Project Lead for the Department of Defense for 26 years until his retirement to Kitty Hawk where he spent as many days as possible at the beach with his beloved dogs.
He and Elaine were married for 42 years and enjoyed spending their time boating with their dogs and daughter on the Chesapeake Bay and out of Oregon Inlet and eating crabs around a picnic table surrounded by friends, family, and margaritas. Jim was an avid beach-goer, fisherman, crabber, boater, and dog lover. He never passed up the opportunity for a party and was widely known for his red cup margaritas. We take pride in the man he was and the many family and friend get-togethers that have inspired wild stories and precious memories from his loved-ones. Memorial services will be private. In lieu of flowers, please consider donating to The North Carolina State University Veterinary School of Medicine Cancer Care/Oncology Program. Please share condolences with the family at gallopfuneralservices.com. Gallop Funeral Services was entrusted with arrangements.