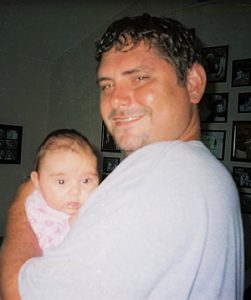 November 7, 1971 – June 21, 2022
KITTY HAWK — John Clifton Duke, III, 50, of Kitty Hawk NC,  died peacefully at his home on Tuesday, June 21, 2022.
Born on November 7, 1971, he was the son of the late John Clifton Duke, Jr. and Elizabeth Rountree Duke.  John was also preceded in death by his sister, Carolyn Duke and brother Johnny Rutherford.
John is survived by his beloved daughter, Ruby Lucile "Lucy" Duke and her mother, Lisa Carol Mathews of Kill Devil Hills, NC, stepdaughter, Jeanie Elizabeth Shults of Bella Vista, AR,  sister, Susan Duke Lawrence (Nathan) of Asheville, NC,  brother Robert Rutherford (Kelly) of Chesapeake, VA, brother James Rutherford and sister Denise Thomas, of Portsmouth, VA, and sister, Angela Clayman of Abington, VA.  He is also survived by his precious nephews and niece, Gage Stephen Lawrence, Ashley (Josh) Pope, and Zachary (Victoria) Rutherford. Special extended family members include Richard (Marguerite) Rountree, of Newport News, VA, cousins Marie (Chris) Gerni, of Savannah, GA, and Richard (Amy) Rountree of Grafton, VA. Other family members include the Rountree family of Greensboro, NC.
John grew up in Portsmouth, VA. He was loved by his peers and shined in baseball, basketball, and football.  He also was active in the Methodist Youth Fellowship at Centenary United Methodist Church.  Upon graduation from Churchland High School, he attended both East Carolina University and ECPI University.
John will be remembered by all for his kind heart and devotion to his mother, Elizabeth "Boo" Duke and lifelong friendship with his best friend Jeff Jones.  The family will tell you his biggest joy in life was spending time with his beautiful daughter, Lucy.
Because John was such a loving and giving man, his family was defined not only by blood, but also in his generous heart. He will be remembered as family to Dean and Zachary Gilmore, of Portsmouth, VA, Randy and Heidi Chappell, of Newport News, VA, Andrew and Wendy Booden, of Chesapeake, VA, and Jeff Curry of Kitty Hawk, NC.
A Celebration of John's Life will be hosted on Sunday, July 3, 2022, from 5:00 PM to sunset, by the late Jeff Jones' wife, Rhonda, at their home on 1822 Bay Drive, Kill Devil Hills, NC.
Twiford Funeral Homes, Outer Banks is assisting the family with arrangements. Condolences and memories may be shared at www.TwifordFH.com.