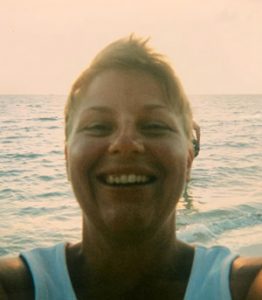 Julie "Jules" Rae Walker unexpectedly left this world on Friday, November 5, 2021, in her sleep, at her home in Kill Devil Hills, North Carolina, of natural causes. Julie was born on July 20, 1970, in Waynesboro, Pennsylvania. (Bet you didn't know she was a Yankee!) Julie graduated from Varina High School in 1988 and then graduated from Johnson and Wales University with an associate degree in Culinary Arts. She cooked in many fine restaurants, but the pinnacle of her cooking career was being 1/3 owner/operator of the now defunct Route 64 Café in Manteo, North Carolina.
Julie was an avid softball player (catcher) until "the ole knees" refused to cooperate. She then switched to bowling. A highlight of many of her years was an annual trip to Nevada to participate in a bowling tournament. She also enjoyed watching football. She was probably the last Dallas Cowboys super fan! Julie was funny, kind, caring and generous. She never met a stranger, and she brightened the lives of so many. Family was everything to Julie, and if you knew Julie, you were family.
Left to cherish memory are her parents, Bobby and Jene Walker of Richmond, Virginia; her sister, Lorie Walker and Lorie's husband Gary Meeks; niece, Teagan Meeks; great nephew, Mason Meeks-Greene, all of Creswell, North Carolina; and her niece, Neyla Meeks (who is growing Julie's second great-nephew Braxton Wade Lacasse) of Belhaven, North Carolina. She is also survived by many aunts, uncles, cousins, her long-time best friend and housemate Bonnie DiGiovonni, and her "extra" family The Petersens.
The family requests that in lieu of floral donation, please consider making a donation to your local pet shelter or planting a tree in her memory. A celebration of her life is being planned and will be posted on gallopfuneralservices.com as well as her Facebook page. Expressions of sympathy and comfort are welcome, via the online register at www.gallopfuneralservices.com. Gallop Funeral Services, Inc was entrusted with arrangements.