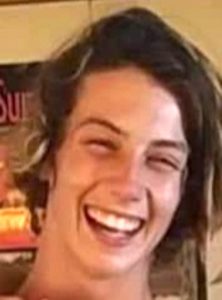 AVON – It is with deep sorrow and much love that we mourn the sudden passing of Leroy Tracey Farrow III (Trey) of Avon, NC on July 25, 2021, at the age of 18 years. Trey is survived by his father Leroy Tracey Farrow Jr of Avon, NC, his grandmother Mona Farrow of Elizabeth City, NC., his grandfather and grandmother Roy and Barbara "nana" Farrow of Avon, NC, his aunt Cissy Farrow, and cousins Sadie and Ryland Gray also of Avon NC, his grandfather Louis P. Jann of Slidell, LA, and Edward P. Jann of Slidell, LA. He is also survived by his great-grandmother Dixie Austin of Elizabeth City, NC, his great-aunt Mary Jane Scarborough of Avon NC, his uncle Matt Farrow of Avon NC, his girlfriend Marisol Ransom of Frisco NC and countless other cousins, great-aunts, great-uncles, and many friends.
Trey was preceded in death by his mother Jamie Jann Farrow of Avon NC; his grandmother Sharon Jann of Slidell, LA and aunt Jennifer Jann of Gulfport, MS.
Trey attended Cape Hatteras Secondary School and was the kind of young man who was kind to everyone and his larger-than-life personality was welcoming and infectious. He was a loving young man who enjoyed spending time with family and friends and enjoyed life and lived life to the fullest. He loved his friends and was very much loved by them. He was silly and funny and his laughter and smile were contagious and would light up the room. He was fearless and adventurous and could do anything he set his mind to. He loved the outdoors and was an outstanding surfer, skateboarder, fisherman, and hunter. He thoroughly enjoyed working for Hatteras Island Tree Care and was praised by his boss for being a reliable, dependable and a hard worker.
Trey was one of a kind and a special person who touched many lives. He will live in our hearts and souls forever. He will be missed but not forgotten. He will be loved forever.
Services will be held at St John's United Methodist Church where Trey was an active member. A viewing will be held on the evenings of Thursday, July 29, 2021, and Friday, July 30, 2021, from 7:00 pm to 9:00 pm. A funeral service will be held at 1:00 pm on Saturday, July 31, 2021. Private burial will take place in the Farrow Family Cemetery.
Twiford Funeral Homes, Outer Banks is assisting the family with arrangements. Condolences and memories may be shared at www.TwifordFH.com.