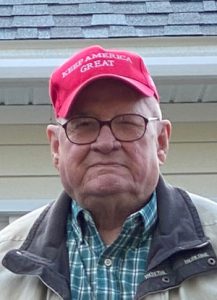 KILLL DEVIL HILLS — Leslie James Evans, Sr., 87, died November 4, 2020 at Spring Arbor of the Outer Banks.  He was born October 5, 1933 in Woodland, NC, the son of Ralph B. and Mary (Joyner) Evans of Rich Square, NC. Leslie graduated from Rich Square High School, Class of 1951.  After graduation he was a devoted lifelong Wholesale Salesman for various businesses in Hertford County, including N.S. Godwin and Cash and Carry.
He was predeceased by a brother, Ralph Henry Evans of Ahoskie, NC; three sisters, Ruth E. Jones of Asheboro, NC, Thelma E. Nowell of Suffolk, VA, and Mary Ellen Goodwin of Rich Square, NC; a daughter, Cathy Ann Evans and wife, Laura Jeanette Evans both of Ahoskie, NC.
Survivors include a daughter, Terry E. Lassiter & husband Joe of Murfreesboro, NC; two sons, Leslie James Evans Jr. and wife Jill of Colerain, NC, and Mark K. Evans and wife Lisa of Kill Devil Hills, NC; and eight grandchildren including Dillon M. Lassiter and wife Kayla of Murfreesboro, NC; Morgan Grace Lassiter and fiancé Brian of Murfreesboro, NC; Matthew Evans, Katelynn Evans, Logan Evans and Karsyn Evans of Colerain, NC; and Haley Anne Evans and Colby Bryce Evans of Kill Devil Hills, NC.
A graveside service will be held at a later date at Ahoskie Cemetery. Gallop Funeral Services of Nags Head, NC is serving the family.  Online condolences can be left by going to www.gallopfuneralservices.com.