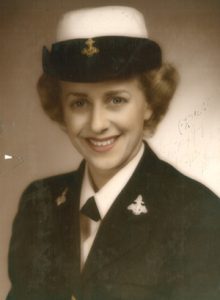 August 16, 1931 – August 8, 2021
KILL DEVIL HILLS — Mary Magdeline Turcich Utz, age 89, of Kill Devil Hills, passed away peacefully on August 8, 2021, at Spring Arbor of the Outer Banks.  She was born on August 16, 1931 in Philadelphia, Pennsylvania to the late Mary Fabianich Turcich, and Anthony Turcich. She was the youngest of four children, all predeceased.
Mary or "Midge" as she was affectionately known, served in the United States Navy from 1952-1954. She later held a position at the Pentagon where she served for several years before resigning to raise her family. Mary later retired from the Fairfax County Police Department where she enjoyed many years as a desk sergeant. Retirement led Mary to Williamsburg, Virginia where she reveled in costume during the summer months at Busch Gardens while holding a job in Public Relations.
Survivors include her two sons, Thomas Jackson Utz, Jr. (Jack),  Jonathan Bailey Utz (Jon), and their wives, Pat Utz and Clara "Cookie" Utz, all of Nags Head NC. Six grandchildren include Bradley Utz, Emily Utz, Lauren McBride, Chloe Utz, Jackson Utz, and Jonson Utz. Great-grandchildren include Ellerbie Utz, Gaines Utz, Banks Utz, and Mackston McBride.
A memorial service will be held at Bethany United Methodist Church in Wanchese, NC on August 16 at 2:00 pm. All are welcome to join us in this Celebration of Life on what would have been her 90th birthday.
In lieu of flowers, donations may be made in her name to St. Jude Children's Hospital (501 St. Jude Place, Memphis, TN 38105) or Bethany United Methodist Preschool (PO Box 239, Wanchese, NC 27981).
Twiford Funeral Homes, Outer Banks is assisting the family with arrangements. Condolences and memories may be shared at www.TwifordFH.com.