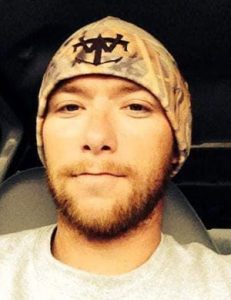 March 7, 1986 – December 26, 2021
MANTEO — Michael Wade Berry, 35, of Manteo, NC died Sunday, December 26, 2021.
Born in Elizabeth City on March 7, 1986, he was the son of Brenda Gail Berry McMurran  and Willie McMurran.
Michael attended Manteo High School and played basketball throughout his youth with Dare County Parks and Recreation. He loved the sport of basketball and was very competitive. Michael had a loved for all children and would often send them to the candy isle to pick up something or hand them a couple of dollars. He had a love for animals, and he loved to stay busy with projects around the house. Michael was always quick to lend a helping hand to anyone in need. No task was too big or small for Michael when it came to helping someone.
Michael worked as a concrete finisher at Summerell Concrete. An avid outdoorsman, he loved fishing. Most importantly, he loved his family. He was kindhearted and never met a stranger. Michael loved to drink coffee all hours of the day. He loved mac and cheese and would often eat it out of the pot with his nieces and nephews.
In addition to his parents, Michael is survived by a sister, Candance M. Jefferies (Bradley) of Angier, NC; two brothers, Daniel McMurran (Kayla Boyd) of Cary, NC and Damian Conyers of Newport News, VA; grandmother, Josie Gregory Meekins of Manteo, NC; aunt, Doris Jean Berry; cousins, Wayla Berry and Mia Berry;  his dog, Katie Mae; and many additional aunts, uncles, and cousins.
Michael was preceded in death by grandfather, Thomas Luther Berry of Engelhard, NC; grandmother, Doris Modlin Berry of Manteo, NC; uncle, Ronald Wade Berry of Engelhard, NC.
A graveside funeral will be held at 12:00 pm on Tuesday, January 11, 2022, at Manteo Cemetery with Rev. DuWayne Gibbs officiating. The family will receive friends and relatives  prior to the funeral beginning at 10:00 am at Twiford Colony Chapel.
To plant a tree in memory of Michael or send flowers to the family, please visit www.TwifordFH.com/send-flowers. Memorial contributions may be made to Outer Banks SPCA, PO Box 2477, Manteo, NC 27954.
Twiford Funeral Homes, Outer Banks is assisting the family with arrangements. Condolences and memories may be shared at www.TwifordFH.com.