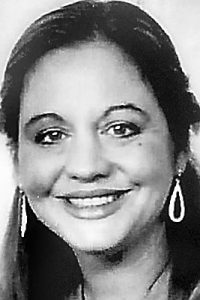 Molly Jo Barnes of Salvo, N.C., passed away peacefully surrounded by her family at Sentara General Hospital in Norfolk, Va., on Saturday, Nov. 30, 2019.
She was born in Altoona, daughter of John E. and Alice Mary (Hess) McKnight. Molly was twice married; first to James Focht in Hollidaysburg and then to William Lee Barnes in Rodanthe, N.C., on Oct. 6, 2007.
Surviving are her husband, William, of Salvo; two sons: Peter J. Focht of Rodanthe, N.C., and Jack Q. Barnes and adopted daughter, Charley A. Waterfield, of Salvo; her parents; two brothers: Shawn E. (Becky) of Zionsville, Ind., and Todd A. (Michelle) of Crystal Lake, Ill.; two sisters: Alison M. (Reid) Badger of Hillsboro, Va., and Laura A. Bevan of Hollidaysburg; many special nieces and nephews, aunts and uncles, who will miss her hearty laugh and her quick wit.
Molly was a 1987 graduate of Altoona Area High School and a 1992 graduate of IUP, where she majored in theater arts, and then again in 2001 from IUP with a degree in elementary education.
Molly was a gifted teacher at Hatteras Elementary School, where she went out of her way to bring her love of the arts and theater to the students of Hatteras Island. She so enjoyed the annual Christmas pageant she tirelessly directed each year as a dedicated teacher. Molly always challenged her students to do their very best and tried to bring the outside world into their lives.
Molly was an organ donor, and she will be laid to rest at a later date with a Mass of Christian Burial at Sacred Heart Catholic Church, with committal at Calvary Cemetery.