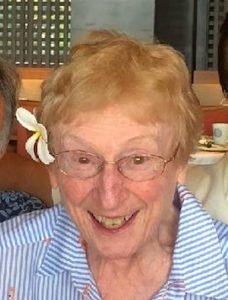 AVON — Nancy Moore Houck of Avon, NC, age 90, wife, mother, grand and great-grandma and friend, passed from this life after a brief illness in Barco, NC. She is remembered as a gentle, loving, enduring heart, who gave much and asked little.
Nancy was born March 27, 1932 in Pottstown, PA. to Esther and Clyde Moore, with extended family remaining in the area. She graduated as Salutatorian of her PHS Class in 1950 and married her high school sweetheart, Richard Houck, spending their early years in Chicago where she worked for Bell while Richard finished his studies at U of C. They were married 69 years and were devoted to their family of three children. Richard and Nancy made many homes together in PA and CT, finally settling in Suffield, CT from 1979-2019.
They loved working on their antique home and property, a labor of love with lots of labor. Nancy volunteered at Child and Family Services and was also proud of her decade's commitment to the Garden Therapy program at Parkway Pavilion as part of her many years of service to the Suffield Garden Club. Nancy was bright and artistic and musical; she was a good listener and a giver. She took joy in all her children's lives and was devoted to her husband Dick.
She is predeceased by her husband, Richard; her daughter, Mary Beth; and her sisters Barbara and Mary.  She is survived by her son, Lt. Col Richard Geoffrey Houck, USMC Ret. of Avon, NC and his spouse Mary Ellen who was invaluable in caring for both of our parents in later years; her son, Christopher Houck of Windsor CT and his wife Jacqueline; by her granddaughter, Elizabeth Callow, her spouse Dave and their children McKenzie and Luke; and her grandson, Geoffrey Houck, his wife Jane and their children Van and Skylar.
She is with her Lord and all her loved ones who went ahead. " The best portion of a good person's life: their little nameless and unremembered acts of kindness and love."
Plans for a memorial service are pending at this time. Please visit  www.gallopfuneralservices.com to contribute and share condolences with the family. Gallop Funeral Services, Inc. was entrusted with arrangements.