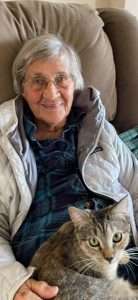 March 2, 1927 – June 3, 2022
WANCHESE — Nelma Tillett, better known as Momma Nell, was born on March the second of 1927 in Duck, North Carolina during an unusual winter storm.  It's said snow was belly high on the delivery doctor's horse.
Her life continued to be as remarkable as the conditions of her birth.  She is remembered by countless yarns and tales of growing up on the remote Outer Banks at a time when boats, horses, and beach driving provided all transport.  She spent her childhood in Duck helping run the family general store and wading the shallow, grassy shoals for soft crabs.
Later, she married Rondal Tillett and moved to Wanchese, where she reared a beautiful family of six daughters and built a fishing business where the family worked.  In addition to raising her own daughters, Momma Nell lifted up countless others who needed family, shelter or just someone to love them.  Her compassion and care for a soul or animal in need was boundless.
Like many Outer Banks old-timers, she had the uncanny ability to build anything out of seemingly nothing.  She used this resourcefulness to construct a life and home large enough to support her overflowing compassion, which was eclipsed only by her gratitude.  Later in life, she was somewhat comically known for mowing half of the grass in Wanchese, and insisting on going for boat rides, even at 95 years old.
On June the third of 2022, she left this world in her home, with grace, surrounded by her children, grandchildren, great-grandchildren, and others who loved her.  She is survived by all six of her daughters, six grandchildren, ten great-grandchildren, and one great-great-grandchild.  Her legacy will endure through her teachings and stories.
A graveside funeral service will be held at 2:00 pm on Sunday, June 5, 2022, in Cudworth Cemetery.
To plant a tree in memory of Momma Nell or send flowers to the family, please visit www.TwifordFH.com/send-flowers.
Twiford Funeral Homes, Outer Banks is assisting the family with arrangements. Condolences and memories may be shared at www.TwifordFH.com.