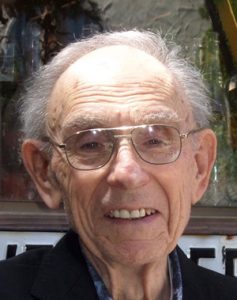 May 22, 1931 – April 25, 2021
Rudolph Anthony Contratti, 89, a longtime resident of Southern Shores, NC died on April 25, 2021.
Rudy started his career as a butcher in the Contratti Brothers Meat Market business, located in Astoria, New York. After he earned his BS degree, he became a part-time high school substitute teacher in Suffolk County, NY. Rudy went on to become a Defense Contract Manager for the Federal Government located in Crystal City, VA. Throughout his career, he earned many achievements and awards.
A devoted husband and father, Rudy was also committed to his community volunteering his time to support various organizations such as Meals on Wheels and the Senior Center. He was an active parishioner of Holy Redeemer By-the-Sea Catholic Church where he served as a Eucharist Minister.
Having won first place in the Duck Woods Golf Tournament, Rudy was an avid golfer, gardener, and sports enthusiast. Go NY Giants!
He was preceded in death by his parents, Lucia and Rudolph Contratti; his wife, Edna Rae Contratti; daughter, Jean Contratti; and his siblings, Mary Potenberg and Robert Contratti.
Rudy is survived by three daughters, Carol Contratti-Vasile (Charles) of Ronkonkoma, NY, Angela Contratti of Nesconset, NY, and Lora O'Toole (Francis) of Oakton, VA; two sons, Stephen Contratti (Ulrika) of Essen, Germany and Rudy Contratti (Shara) of Fairfax, CA; nine grandchildren, Carlo Contratti, Tyler May, Nicholas May, Kylie May, Francis O'Toole, Jr., Julia O'Toole, Owen O'Toole, Ian O'Toole, and Aidan O'Toole. Also, surviving is his brother, Angelo Contratti (Patricia) of Flushing, NY.
A Mass of the Resurrection will be celebrated at 10:00 am on Friday, May 21, 2021, at Holy Redeemer By-the-Sea Catholic Church by Rev. Dr. William F. Walsh, osfs. A graveside committal service will follow at Southern Shores Cemetery.
Twiford Funeral Homes, Outer Banks is assisting the family with arrangements. Condolences and memories may be shared at www.TwifordFH.com.