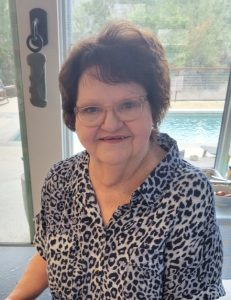 February 15, 1944 – October 16, 2023
Lakeland, FL — Shirley Joleen Meekins, 79, passed away in Lakeland, FL on Monday, October 16, 2023.
Shirley was born in Texas on February 15, 1944, to parents Elias and Jaleen (Green) Buzan.
She spent all of her childhood and young adult years in Texas, enrolling in cosmetology school right after graduating high school.
Shirley resided in California before settling in Lakeland, FL 15 years ago. She was a member of Free Life Chapel. She loved cooking, sewing, and spending time with her family.
Shirley is preceded in death by her parents and husband, Milton Meekins, Sr.
She is survived by her children, Charles Meekins (Jo Ann), Kathleen Hendren (William), and Milton Meekins, Jr. (Channing); and sister Mary Ruth Davis.
Services for Shirley will be held on Friday, October 20, 2023 at Gentry-Morrison Funeral Home, Serenity Gardens Chapel. Family will receive friends from 4:00-4:30PM, with funeral service to follow at 4:30PM.
Shirley will be laid to rest at Hooper Cemetery in Avon, North Carolina.
Twiford Funeral Homes, Outer Banks, is assisting the family with arrangements. Condolences and memories may be shared at www.TwifordFH.com.