RODANTHE —  Timothy Craig Lockhart of Rodanthe, NC, passed away on Thursday, August 22, 2019 at the age of 75.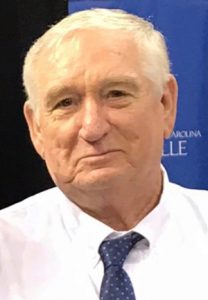 Tim was born to parents George Dewey and Edna Jane Lockhart on August 22, 1944 in Dickinson County, VA.  He graduated from Thomas Dale High School in 1963. He served honorably in the Army National Guard for 6 years.   In 1970, he married Barbara Lockhart and resided in Matoaca, VA where they raised two children, Sharon and David.
He received his journeyman in Industrial Painting at Brown & Williamson Tobacco company.  He went on to work for the State of VA at VA State Police Headquarters Governor's Mansion and Virginia Commonwealth University, retiring in 2010.  Tim was an excellent tradesman, building the family's home in Matoaca, VA and in Rodanthe, NC.
In 2010, Tim and Barbara moved to Rodanthe, NC where he enjoyed fishing and spending time with his grandchildren, neighbors and friends. He spent time volunteering by feeding the community through the Lifeline Outreach Food Pantry.  Tim was a long-time parishioner of Woods Church in Matoaca, VA and recent member of Fairhaven United Methodist Church in Rodanthe, NC.
Tim is survived by his loving wife of 48 years, Barbara Lockhart; his Daughter, Sharon Jordan (Jeremy Carpenter) and children Timothy (Ashley Rainey), Emma, Ansley, and Gavin; his Son, David Lockhart (Kristy Lockhart) and children Matthew Lockhart, Brooke Harrison, and Makenna Harrison;  Brother, Greg Lockhart; Brother-in-Law Charles Myrick (Susan Myrick) and numerous nieces and nephews.  He is preceded in death by his parents George Dewey and Edna Jane Lockhart of Matoaca, VA; and three siblings, Orchard Mullins, Donna Lockhart and Geraldine Fry.
Services will be held Friday, August 30th at 4pm at Fairhaven United Methodist Church in Rodanthe, NC and live streamed to Woods Church in Matoaca, VA.  Family and friends attending the Rodanthe service will be invited to a reception immediately following at the Rodanthe Community building.
Condolences to the family may be expressed via the online register at www.gallopfuneralservices.com. Gallop Funeral Services was entrusted with arrangements.