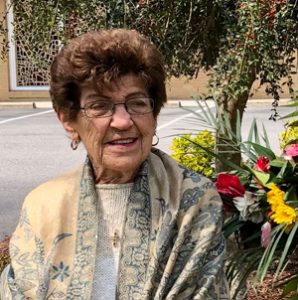 KITTY HAWK — Victoria "Vicky" Marshall Noble, 93, of Kitty Hawk, NC died Tuesday, February 28, 2023, at her home.
Born in Torrington, CT on July 3, 1929, she was the daughter of the late Victoria Rotar Marshall and John Marshall.
Vicky was a longtime resident of New Milford, CT. In December 2020, she moved to the Outer Banks to be closer to family transitioning seamlessly to her new community by participating in senior center activities, church, and various social activities. She attended Kitty Hawk United Methodist Church and formerly, Gaylordsville United Methodist Church in Connecticut where she was a member for over 70 years.
With a smile that would light up any room, Vicky loved her family (she was one of 13 children) and friends. She enjoyed gardening, baking, walking, and exercise classes. Vicky considered every day a gift from God and lived to the fullest.
Vicky is survived by her daughter, Deborah Zeigler (Terry) of Kitty Hawk, NC; her son, Keith Noble (Wanda) of Atlanta, GA; sisters, Genny Wald of Canton, CT, Patty Caine of Canton, CT, and Lorraine Crunden of Riverton, CT; and a brother, Rowland Marshall (Sherry) of Arcadia, FL.
In addition to her parents, she was preceded in death by her husband, Edward Cruise Noble; daughter, Christine MacDonald; sisters, Anna Caine, Virginia LaLime, Shirley LaCasse, and Betty Pacocha; and brothers, John Marshall, Raymond Marshall, and Robert Marshall.
A memorial service will be held in Connecticut at a later date. In lieu of flowers, memorial donations may be made to Adoration Hospice, PO Box 1329, Kill Devil Hills, NC 27948.
Twiford Funeral Homes, Outer Banks is assisting the family with arrangements. Condolences and memories may be shared at www.TwifordFH.com.