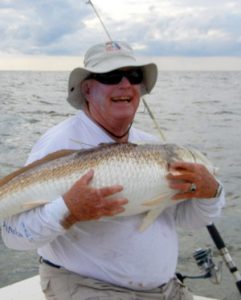 MANTEO — Warren Callaway Martin, Jr, 79, died peacefully in his sleep on March 13, 2022, at his Manteo home residence.
Warren was born in Burlington County, NJ, and grew up in Cinnaminson, NJ where after getting teaching credentials at Shippensburg University, he taught in the school system for some 40+ years.  He was also the area's night school principal, summer school principal, an aide to a New Jersey Congressman, a manager at a liquor store and even with all that managed to spend several vacations and summers here on the Outer Banks.   When he retired on The Outer Banks in 2004, he worked at the Oregon Inlet Fishing Center and for Mac Midgett.
Throughout his entire adult life, he was a dedicated track and field official in the mid-Atlantic region and became the head referee at The Penn Relays in Philadelphia overseeing the hammer, discus, and javelin events every year.  He was a seasoned representative of USATF and a member of the SNJTF In addition, he was an avid fisherman first in the New Jersey area and later on The Outer Banks.  He did in-shore, off-shore, surf fishing, ran crab traps, you name it, all from his soundside home in Rodanthe and wherever else he traveled.   This February he fished the winter away in Key West, FL.
Warren is survived by his wife, Kathleen Sparrow Martin, of Manteo.  In addition, he is survived by his stepchildren from his first wife, Phyllis: Tom L Harder of Lorida, FL; Earle Harder Jr. of Superior, CO; and Susan Molnar of Greensboro, NC; and Frank Matthew Sparrow, III of Raleigh, NC and Brian Sparrow of Brooklyn, NY by his second wife, Kathy.  He has a total of 8 grandchildren and 3 great-grandchildren in Colorado and in North Carolina.  He was predeceased in death by his parents Ethel Mae Murphy Martin and his Father, Warren Callaway Martin, Sr as well as his first wife of many years, Phyllis Jones Martin, who died in 2009.  In addition, Warren had the privilege of having two lifelong friends whom he met while in elementary school and to the day of his death remained close with, Ralph A Cann, III, of Rodanthe and Greensboro, NC and Thomas E Weber, of Riverton, NJ.
He was a member of the Ancient Free & Accepted Masons of Manteo, NC.  A member of St. Andrew's by the Sea, a lifelong Episcopalian, a proud Eagle Scout, a volunteer at the OBX Sporting Events and the Manteo High School athletic department.
A memorial service is being held at St. Andrew's Episcopal Church on Thursday, March 17th at 10 am. Condolences may be shared at www.gallopfuneralservices.com. Gallop Funeral Services were entrusted with arrangements.