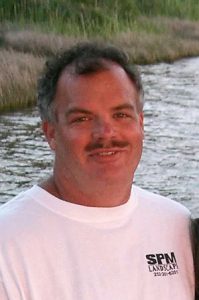 1962 – 2022
KITTY HAWK — William Jeffrey Bowlin (Jeff), 60, was born in Kansas City, KS and moved to North Carolina when he was eight years old. For the last 40 years, he has made his home on the Outer Banks where he was a highly regarded, sought-after contractor.
He suffered a gunshot wound to the chest on August 14, 2022, protecting a member of his family. He was transported to The Outer Banks Hospital where he later died.
Jeff attended high school in Wake Forest, NC, and attended East Carolina University.
He enjoyed playing golf, skiing, hunting, and fishing and earned his black belt in Karate. On weekends it was not uncommon to find him in a game of poker with close friends. When time permitted, he liked traveling, taking cruises, and getting away for weekends with his wife Kathrine.
His family was his North Star- it grounded and guided him. He supported, treasured, and protected them. He adored his wife of 27 years and enjoyed spending time with his children and supporting them in the pursuit of their interests. Above all, he was a friend to all, always willing to lend a helping hand. This was true throughout his life. We will all miss him greatly.
He is predeceased by his father, William Lee Bowlin of Youngsville, NC and by his father-in-law, Bernard Lawrence Mears of Hampton, VA.
He is survived by his wife, Kathrine Mears Bowlin and their children, Alexis Theresa Bowlin, Olivia Katherine Bowlin, and Maxton Lee Bowlin. Other relatives include his mother, Joyce Olivia Phelps of Wake Forest, NC and his brother, Patrick David Bowlin and his children, Alexander Patrick Bowlin and Wyndham Faith Bowlin of Wake Forest, NC. He is also survived by his mother-in-law, Theresa Mears; sisters-in-law Margaret Clark, her husband Craig, their children Jessica King, Elizabeth Clark-Gomez and Devin Clark of Kill Devil Hills, NC; Stephanie Mears and her children Nicholas Mears, Natalie Motley and Emily Motley of Hampton, VA; Allison Sutton, her husband David Sutton, daughters Jennifer Smith and Amanda Stassi of Yorktown VA; Samantha DeLucia, her husband John DeLucia, their children Jonathan DeLucia, Rebecca Vitullo, Hannah DeLucia and Jack DeLucia of Kitty Hawk, NC.; brothers-in-law, Stephen Mears, his wife Sharon Mears and their son Ethan Mears of Hampton, VA; B.J. Mears and his children Courtney Mears and Brandon Mears Torres of Oak Hill, VA; and Howard Mears of Manhattan, NY.
In lieu of flowers, the family requests that you support your choice of first responders; fire, EMS, and law enforcement officers as they work hard to keep our families safe.
A Mass of the Resurrection will be celebrated at 11:00 am on Thursday, August 25, 2022, at Holy Redeemer By-the-Sea Catholic Church by Rev. Dr. William F. Walsh, osfs.
Twiford Funeral Homes, Outer Banks is assisting the family with arrangements. Condolences and memories may be shared at www.TwifordFH.com.