Light Art Event and Concert at Wright Brothers National Memorial September 29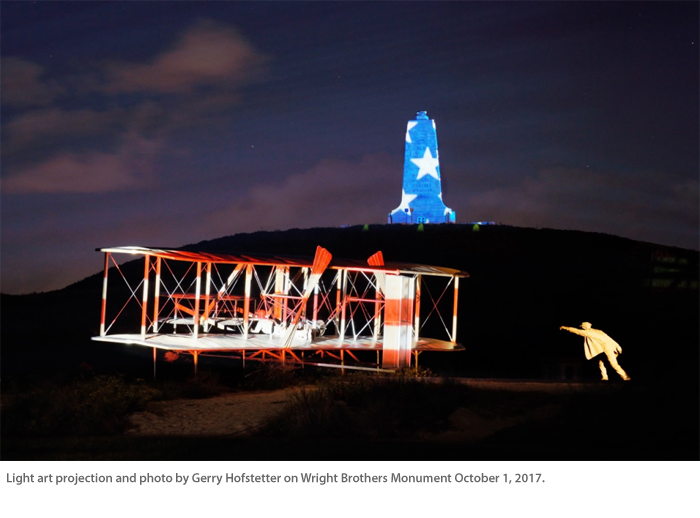 The National Park Service is delighted to invite the public to a concert and light art event at Wright Brothers National Memorial on September 29, 2018.  Admission to the park grounds will be free from 5 pm to 10 pm.
Please note that the visitor center will not be open on September 29. The visitor center is scheduled to reopen on October 20, 2018.
Swiss light artist Gerry Hofstetter will be returning to the park on for a curated light art display on Wright Brothers Monument as part of his Light Art Grand Tour USA spotlighting 50 United States monuments.
Schedule of Events:
6:30 pm: Concert by the First Flight High School Honors Jazz Band
7:45 pm: Introduction to the light art show by the National Park Service, light artist Gerry Hofstetter, and his special guests Walter Hediger and David Laurence from the Gallet Watch Company
8:00 – 9:00 pm: Narrated light art show with images of the Wright's gliding and flying experiments, Wright Brothers Monument, Wright brothers connections with Switzerland – including their use of the Swiss Gallet watch to time their first flight, the Wright Brothers visitor center; and modern aviation & celebrations at Wright Brothers.
Location: The best viewing area for the event is the east side of Big Kill Devil Hill. Visitors will be directed to this location by National Park Service rangers.
Parking: Parking will be available in the main parking lot at Wright Brothers National Memorial and at First Flight High School.
What to Bring: Please bring flashlights or headlamps to help you safely navigate after dark. You are welcome to bring chairs, blankets, snacks and drinks.
For more information about the Light Art Grand Tour USA visit: www.grandtour-usa.ch