Beach Access Expands as Nesting Season Winds Down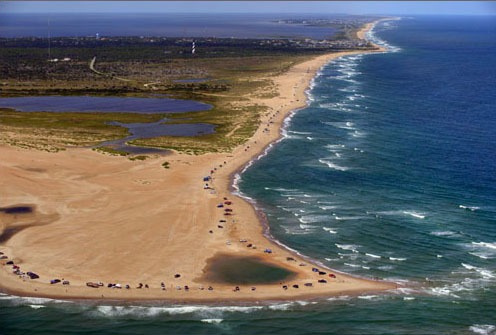 The Cape Hatteras National Seashore (CHNS) recently announced the opening of several popular beaches as shorebird and sea turtle nesting season continues to wind down. 
On Ocracoke Island, off-road vehicle (ORV) access to South Point on the island is expected to reopen by noon this Saturday, August 17. 
On Hatteras Island, visitors can now walk on the beach from South Beach Road, (or old ramp 45), all the way to the tip of Cape Point, while ORV ramp 23 near Salvo has reopened to pedestrians. (The ramp is opened seasonally to off-road vehicles.)
Cape Point in Buxton fully opened on August 5 to both ORVs and pedestrians due to diminishing shorebird nesting activity in the immediate area. The tip of Cape Point closed on May 6, 2019, due to a large colony of nesting least terns. 
In addition, a transition to night driving on ORV ramps (24 hours a day) could occur as early as September 15, if there are no sea turtle nests remaining along a route. As of August 1, ORV ramps are currently open from 7:00 a.m. until 9:00 p.m., with the exception of the following priority ramps which open at 6:30 a.m.
Priority ORV Ramps
Ramp 2 – Bodie Island
Ramp 4 – Bodie Island
Ramp 25 – Hatteras Island
Ramp 27 – Hatteras Island
Ramp 43 – Hatteras Island
Ramp 44 – Hatteras Island
Ramp 48 – Hatteras Island
Ramp 49 – Hatteras Island
Ramp 70 – Ocracoke Island
Ramp 72 – Ocracoke Island
For current beach access information and updates, visit http://go.nps.gov/beachaccess.