FHWA Repaving Project Making Progress on Roads, Parking Areas in Buxton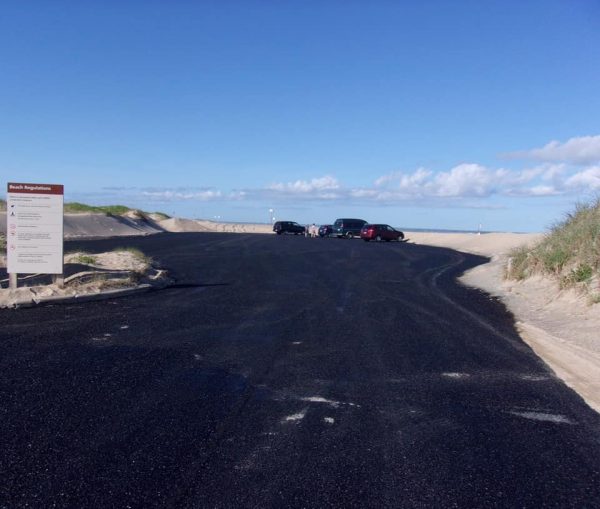 The island-wide repaving project for roads and parking areas within the Cape Hatteras National Seashore (CHNS) has made big strides since starting in early April, with much of the recent work concentrated at popular CHNS sites in Buxton.
Though taking place within the National Seashore, the project is orchestrated by the Federal Highway Administration (FHWA) and is a year-long endeavor to preserve many of the paved sites within the Cape Hatteras National Seashore, Fort Raleigh National Historic Site, and Wright Brothers National Memorial.
In recent weeks, the FHWA has finished preserving the pavement at the Ramp 43 parking area, the fish cleaning station parking area near Ramps 43 and 44, and Lighthouse Road between Ramp 43 and the Cape Point Campground, where 75% of the campground's pads were cleared as of May 3.
The difference at the Ramp 43 parking area is especially noticeable, as accumulated sand was removed from the old parking area, making more room for vehicles.
FHWA will continue working to preserve pavement on the remainder of Lighthouse Road, and will move on to working at Sandy Bay Sound Access and Frisco Beach Access before taking a break from May 24 through September 3.
When the FHWA returns on September 3, they will continue working on Hatteras Island and will make their way to Ocracoke Island as well.
The contractor enlisted by the FHWA for the $6.9 million project is Bryant's Land & Development Industries, Inc. from Burnsville, North Carolina. Work throughout the year consists of pavement preservation treatment (thin overlay, chip seal, and microsurfacing), asphalt patching, crack cleaning and sealing, and striping.
Full road closures are not anticipated during the project, however, delays will occur through May 24 due to temporary one-lane closures.
The public can keep track of the paving work as it progresses via a new webpage dedicated to the project at https://www.nps.gov/caha/planyourvisit/fhwa_2019_2020_preservation_project.htm