National Seashore Updates: Memorial Day Weekend Tips and Events from CHNS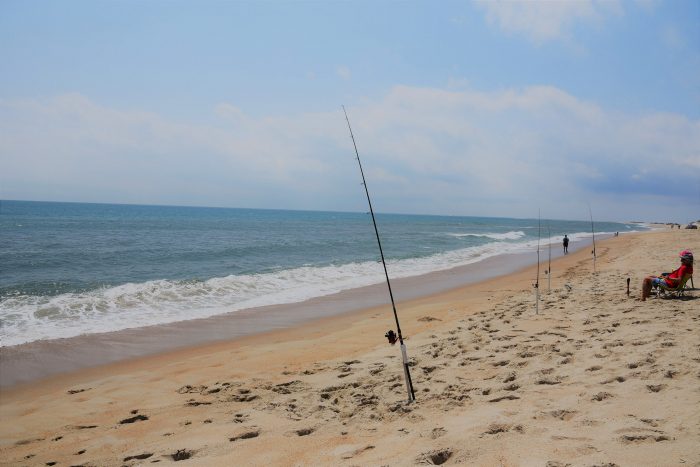 National Park Service staff at Cape Hatteras National Seashore (CHNS) are looking forward to welcoming visitors from all around the world this Memorial Day weekend.
To ensure the most enjoyable and safe trip possible, the CHNS shared the following events and tips with the public in a special edition of their weekly National Seashore Updates
Programs with a Park Ranger
Over Memorial Day weekend, there are many opportunities to participate in ranger-led programs. The following is a listing of programming being offered this weekend:
Hatteras Island
Cape Hatteras Lighthouse Climbing, daily from 9:00 am to 4:30 pm
20th Anniversary: the Cape Hatteras Lighthouse Move!, daily from 10:30 am to 11:00 am

Learn about the monumental move event that happened right here in 1999 when the entire light station was moved 2,900 feet away from the threat of a changing shoreline. Meet at Hatteras Island Visitor Center Pavilion

Shaping this Barrier Island, daily from 3:30 pm to 4:00 pm

War, wind, hurricanes, and ocean currents have all had impacts on the shores of Cape Hatteras. Join us to learn about some of these events and the changes they have made to the island. Meet at Hatteras Island Visitor Center.

Fish with a Ranger, Monday (Memorial Day) from 8:00 am to 9:30 am in Buxton and Tuesday (May 28) from 8:30 am to 10:00 am in Rodanthe.

We bring the poles, you bring the bait. Must pre-register to attend this program. To pre-register beginning the Saturday prior to the program, call 252-475-9622. Note: there are two locations for this program.
Bodie Island
Bodie Island Lighthouse Climbing, daily from 9:00 am to 4:30 pm
Ocracoke Island
Pirates!, Monday (Memorial Day) from 1:00 pm to 1:30 pm

Yes, they were here! Learn about Blackbeard and others. Meet at the Ocracoke Visitor Center Amphitheater

Barrier Island Nature, Monday, (Memorial Day) from 3:00 pm to 3:30 pm

Join us for a talk about the wild side of the park. Meet at the Ocracoke Visitor Center.

Ocracoke After Dark, Monday (Memorial Day) from 8:45 pm to 9:45 pm

Bring blankets and chairs for an evening of stargazing on the beach! Bring bug spray and meet at the Ocracoke Day Use Area Beach.
Visit for https://www.nps.gov/caha/planyourvisit/calendar.htm for additional interpretive programming scheduled for next week.
Lifeguarded Beaches
There are four beach locations along the Seashore that are staffed with lifeguards starting Memorial Day weekend. Lifeguarded beaches are the safest places to swim during your visit.
The lifeguarded beach locations are:
Bodie Island: Coquina Beach Access, located across from the Bodie Island Lighthouse site.
Hatteras Island: Cape Hatteras Lighthouse Beach Access, adjacent to the Old Cape Hatteras Lighthouse site.
Hatteras Island: Frisco Beach Access (NEW THIS YEAR), located just south of Frisco Village.
Ocracoke Island: Ocracoke Beach Access, 1.5 miles south of the NPS campground.
ORV Travel
There are currently over 25 miles of oceanside ORV beach routes available for visitors to enjoy. An area near the tip of Cape Point is temporarily closed to protect nesting shorebirds; however, ORV users can still access a large area towards Cape Point and north of Ramp 43. Additionally, many miles in front of the villages are wide open for non-motorized activities, along with many more miles spread across the Seashore.
ORV permits can be purchased online at www.recreation.gov or in-person at the following permit offices: Bodie Island Visitor Center, Hatteras Island Visitor Center, and Ocracoke Island Visitor Center.
Before driving on ORV routes, we strongly recommend that tire pressure be lowered to at least 20psi. The softer the sand, the lower the pressure. Reinflate tires to normal pressure as soon as possible after returning to paved roads. Many local businesses have air pumps.
Beach access updates are posted on the Seashore's website. Learn more about ORV travel athttps://www.nps.gov/caha/planyourvisit/orv_faq.htm.
Buxton Beach Access
On May 24, a new beach access opens at the end of Old Lighthouse Road in Buxton. When the Buxton Beach Access opens, a 50-car parking area, portable restrooms, and a non-slip wheelchair beach access mat will be available. The site previously served as a U.S. Navy and U.S. Coast Guard base.
Passenger Ferry
The North Carolina Department of Transportation's Ferry Division recently started a passenger-only ferry service between Hatteras and Ocracoke Islands. The Ocracoke Express Passenger Ferry runs seven days a week through September 5, 2019. More info can be found at:https://www.ncdot.gov/travel-maps/ferry-tickets-services/Pages/passenger-ferry.aspx.
Camping
The Seashore has four campgrounds. All of the campgrounds have tent, trailer, and motorhome sites. The Oregon Inlet Campground has water and electric at 47 camping sites. Full details: https://www.nps.gov/caha/planyourvisit/campgrounds.htm.
Whether you are enjoying the beach, kayaking the sound, or climbing the Cape Hatteras Lighthouse, there is something for everyone to explore at Cape Hatteras National Seashore. We wish you a safe and enjoyable Memorial Day weekend.
Social Media
Share your Memorial Day weekend memories with us on social media. Cape Hatteras National Seashore is on Facebook, Twitter, and Instagram.