National Seashore Updates for the Week of March 21
The Cape Hatteras National Seashore (CHNS) announced several recent updates and news items related to recreational activities and seashore conditions on Hatteras and Ocracoke Islands. Updates and upcoming events for the week of March 21 include the following:
Seashore Updates
The Bodie Island and Cape Hatteras Lighthouses will open for climbing from April 19 through October 14. Opening day is a fee free day.
Cape Hatteras Lighthouse made its epic "move of the century" journey in June and July 1999. To celebrate the 20th anniversary of the move, park rangers will present daily interpretive lighthouse move programs beginning May 3 and continuing through October 14. Additional interpretive programming and a special anniversary event will be held between June 17 and July 9 (the same dates as the lighthouse move in 1999). More details to be announced soon.
Full Moon Tours of the Cape Hatteras Lighthouse will be offered on June 17, July 16, August 15, and September 14. Tickets for the full moon climbs can be purchased at recreation.gov starting at 10:00 a.m. three days prior to each tour date. Full moon climb tickets normally sell out within minutes.
A plan to construct a new accessible hunt blind and wildlife-viewing platform within an authorized waterfowl hunting area on Bodie Island was approved by the Director of the Southeast Region.
The Seashore is currently recruiting local and RV volunteers to assist at the lighthouses on Bodie and Hatteras Islands this spring! For more information and to apply, visit: https://www.volunteer.gov/results.cfm?ID=3617
The 2019 camping season at the Oregon Inlet, Cape Point, Frisco, and Ocracoke campgrounds begins Friday, April 12. The campgrounds will remain open through December 2. Water and electric services are available at 23 camping sites at Oregon Inlet Campground. Reservations can be made by calling 1-877-444-6777, or on the internet at gov.
Surf Fishing Heritage Celebration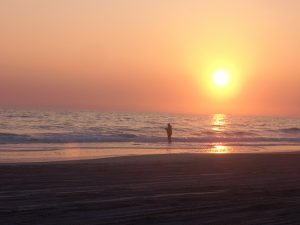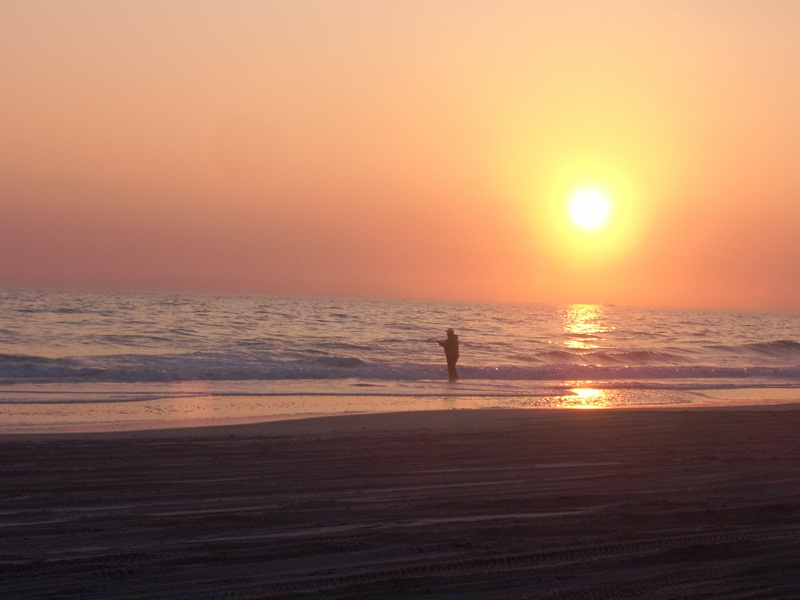 On November 2, 2019, Cape Hatteras National Seashore, along with partner organizations, will celebrate the area's strong surf fishing history at the 1st annual Cape Hatteras Surf Fishing Heritage Celebration. The free event will be held at the Fessenden Center in Buxton, North Carolina. We are currently planning the event with help from the Cape Hatteras Anglers Club, North Carolina Beach Buggy Association, Outer Banks Forever, Outer Banks History Center, and Outer Banks Preservation Association.
More details about the 1st annual Cape Hatteras Surf Fishing Heritage Celebration will be posted at https://www.nps.gov/caha/planyourvisit/surf-fishing-heritage-event.htm.
Upcoming Events
2018 Year in Review Presentations

Mar 26, 2:00 p.m. to 3:00 p.m., Location: Ocracoke Community Center, Ocracoke
Mar 27, 6:00 p.m. to 7:00 p.m., Location: Fessenden Center Annex Building, Buxton
Description: At two public meetings (Ocracoke & Buxton), Superintendent Hallac will review 2018 visitation patterns and park activities at Cape Hatteras NS, Fort Raleigh NHS, and Wright Brothers NMEM.

Special Program – The Enemy in Home Waters: How World War I Came Home to America's Shores

Mar 27, 6:00 p.m. to 7:00 p.m. (Ocracoke Community Center, Ocracoke)
Description: NOAA's Monitor National Marine Sanctuary Research Coordinator, Tane Renata Casserley, will present information on World War I, the story of brave Americans who went up against Germany's newest weapon, the U-boat, and NOAA's work to honor nationally significant shipwrecks off North Carolina's coast. The special program is free.

Beach Cleanups on Bodie, Hatteras, and Ocracoke Islands

Apr 13, 8:00 am to 12:00 p.m. More details will be announced soon.