NPS reminds ORV drivers to air down & obtain a beach driving permit before hitting the sand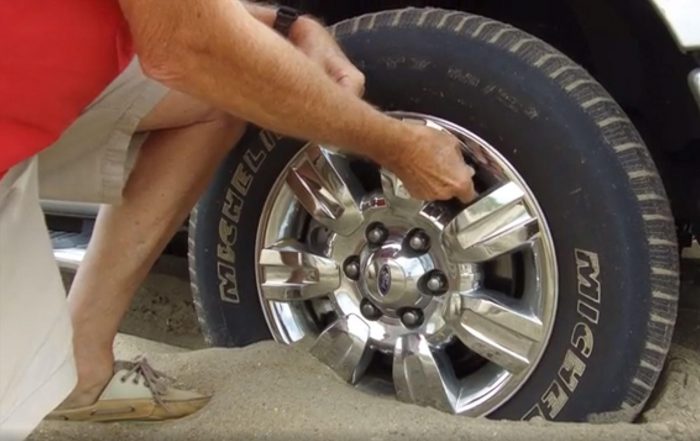 With multiple reports of vehicles getting stuck or driving on the beach without a permit over the past few weeks, the National Park Service (NPS) is urging ORV drivers to observe the rules of the off-road before exploring the roughly 25 miles of Cape Hatteras National Seashore that are open for 4WD vehicles.
Independence Day weekend is usually accompanied by social media posts, photos, and anecdotes about vehicles of all varieties getting stuck in the sand, (including cars and 2WD vehicles), and 2020 has been no exception.
"We heard there were at least 5 to 10 vehicles stuck [at ramp 38 near Avon] this past weekend, and there are lots of days where multiple vehicles get stuck at that spot, and in other locations," said National Parks of Eastern North Carolina Superintendent, David Hallac.
"Anecdotal observations suggest we may have more people getting stuck [this year], but we don't have statistics to support these observations," said public information officer, Mike Barber. "Recent ORV permit sales volume has been higher than we've seen in the last few years. With more permitted vehicles on the beaches, it would not be surprising to have more vehicles getting stuck."
Multiple local organizations, like the North Carolina Beach Buggy Association (NCBBA), recommends that all beach drivers lower their tire pressure to 20 psi or below, and in 2018, the Outer Banks Preservation Association (OBPA) printed thousands of "Don't Be a Clown, Air Down" stickers to remind folks to air down their tires before hitting the beach.
There are three important reasons for reducing the pressure in your tires before accessing the islands' ORV routes:
Safety– Vehicles with lower tire pressure are less likely to get stuck on the beach. When a vehicle is stuck, it may create a safety hazard to others by blocking the ORV route and making it more difficult to exit and enter ORV ramps.
Impacts to ORV routes– Vehicles with high pressure in their tires may create deeper ruts and impacts to the beach surface. Those impacts, along with others that come from removing stuck vehicles, can create holes and ruts along the beach, which make traveling unpleasant and more challenging for other drivers that use the same route.
Vehicle stress– Vehicles with high pressure in their tires also tend to dig into the sand, which may stress or cause overheating to a vehicle's transmission.
Lowering your vehicle's tire pressure effectively increases the tire's surface area, which prevents it from sinking into the sand. The increase in surface area that comes from lowering tire pressure and "floating" on the sand is similar to the effect of putting on snowshoes on when walking in deep snow.
While Cape Hatteras does not prescribe a specific pressure for over-sand travel, other Seashores, such as Cape Cod National Seashore, provide recommendations for even lower tire pressure. For example, Cape Cod National Seashore requires that vehicles air down to 15 psi or less, and recommend 11 psi as the norm.
Multiple convenience stores, gas stations, and tackle stores or weight stations on Hatteras and Ocracoke islands have free air available so that drivers can easily re-inflate their tires once they have left the beach.
ORV drivers also have the option to purchase and carry their own portable air pump, so that tires can be almost instantly re-inflated after exiting ORV routes.
As for beach driving permits, although in-person permit sales offices are currently closed on Hatteras and Ocracoke islands, permits are available 24/7 at https://www.recreation.gov/.
In addition. ORV explorers can regularly check the Cape Hatteras National Seashore's alerts and conditions webpage at https://www.nps.gov/caha/planyourvisit/conditions.htm to obtain updated information on accessible ORV routes, as well as data on any driving concerns, such as erosion or flooded roadways.
For more information on beach driving safety from the Cape Hatteras National Seashore, visit https://www.nps.gov/caha/planyourvisit/permitsandreservations.htm#ORV.