As the lighthouse turns — or not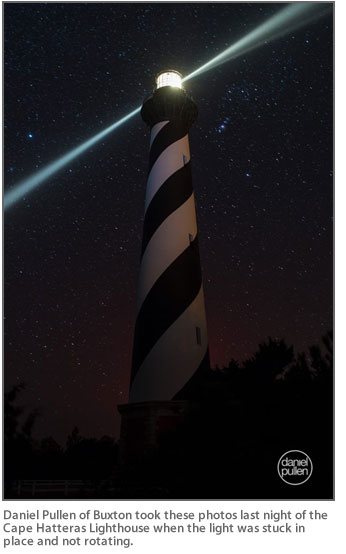 There's nothing more comforting than standing on your deck on a clear night and looking out over the horizon towards Buxton to catch that once-every-seven-second flash of light that marks the turning of the Cape Hatteras Lighthouse.
While that's typically what's expected after dark on the island, for the past two nights, something was notably different about the landscape. The lighthouse had apparently gotten "stuck" and had, well, stopped turning.
And while that's an unusual occurrence on its own merit — most people can't recall the last time it happened — what's even more unusual is that during the day or two that it was not sweeping the horizon, apparently not many people really noticed.
Susie Perry of Buxton noticed. But this is most likely because she's a neighbor of the Cape Hatteras Lighthouse and has considered the lighthouse a constant in her life for 42 years.
And also, when it stopped, it was shining into her bedroom window.
"We just noticed one night it wasn't turning, and then the next night it wasn't turning," she said. "We just shut our blinds, so it really wasn't a problem. But it was just directed right at us."
Susie's husband, Bryan, comes from a long line of lightkeepers, so the rotating light has been a steadfast presence of sorts for Susie and her family, as well as most island locals. "It is the 'normal' in my life to see it turning, that's why it was obvious to me," she said. "It has happened before, but I don't think it's happened since I moved to this house 15 years ago."
Susie posted her observation on Facebook, and effectively brought it to the attention of a wide number of people on the island who simply hadn't noticed that anything was askew – including the National Park Service.
On Monday morning, though, once the National Park Service was contacted, the fix began almost immediately.
John Kowlok, the chief of maintenance for the Cape Hatteras National Seashore, had his staff members first take a look to determine if it was a simple repair. After seeing that it wasn't a breaker flipped off or anything quick and easy, the Park Service notified the U.S. Coast Guard, which handles the larger issues with the light, which is an aid to navigation.
"If the problem is something we can resolve, we take care of it immediately. If we can't resolve the problem, we contact the Coast Guard," he said.
"Periodically the power will go off, or the breaker will go off during a storm event, but this is the first time I know of that it's been stuck," he added.
Members of the Coast Guard were at the lighthouse by about 10 or 10:30 a.m. on Monday morning and had left by 11:30 or so. The Visitors Center attendant reported that the lighthouse had been fixed by noon – apparently, just a few hours after the initial notification.
So the lighthouse is back to its old rotatingself again, and visitors can once again look forward to seeing that flashing light every seven seconds, instead of the darkness of the past day or two – or constant annoying beam, depending on where on the island you were standing.
And while the lighthouse being turned off or stuck doesn't have the same implications as it used to a century ago, with modern mariners using technologically-advanced navigational systems instead of looking for the distant light, emergencies can happen, and it's helpful to have a back-up inshore guide.
Meanwhile, Buxton residents who were in the path of the stuck light will hopefully sleep tight tonight, while the rest of us will spend the next day or so shaking our heads and wondering how we could have missed a sweeping beam of light that is visible for miles at a perfect stand still.
Here's hoping the next time is happens – in at least 15 years or so – we'll not only notice, but will also have an opportunity to admire and actually enjoy this once-in-a-blue moon occurrence.
Just so long as it's not pointed directly at us.