AccuWeather estimates Dorian's impact at $10B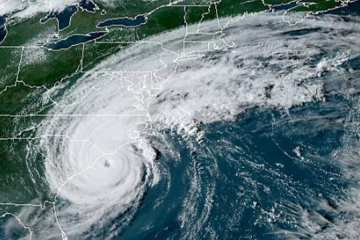 (AccuWeather Global Weather Center)
If there are no late surprises, the 2019 Atlantic Basin hurricane season officially will conclude on Saturday, Nov. 30, with no further activity.
During the course of the 2019 hurricane season, which officially began on June 1, there were 18 named storms, a total that included 10 tropical storms, two subtropical storms, two Category 1 hurricanes, one Category 2 hurricane and three major hurricanes (Category 3 or higher).
Only seven Atlantic Basin hurricane seasons since 1851 had more than 18 named storms, and five of those seasons have occurred since 1995 (2012, 2011, 2010, 2005 and 1995). The other two were in 1933 and 1887.
AccuWeather estimates the total damage and economic loss caused by named storms in 2019 to be $22 billion in the U.S. and an additional $5 billion in the Bahamas, according to AccuWeather Founder and CEO Dr. Joel N. Myers, based on an analysis incorporating independent methods to evaluate all direct and indirect impacts of the storms based on a variety of sources.
The 2019 season is less costly than AccuWeather's estimates for the 2018 ($80-90 billion) and 2017 ($290 billion) seasons, which included Hurricanes Florence and Michael in 2018 and Hurricanes Harvey, Maria and Irma in 2017, among others. Each of those hurricanes caused more estimated total damage and economic loss than the combined total of 2019 storms.
Seven of the 18 storms in 2019 lasted 24 hours or less as a named storm – "the most extremely short-lived named storms [in one season] on record," according to Colorado State University meteorologist Philip Klotzbach. The old record was six set in 2005.
Also, eight of the 18 named storms had maximum sustained wind readings of 52 mph (45 knots) or lower. Winds of that speed are categorized in the lower end of the tropical storm category, which ranges from 40 to 73 mph (34 to 63 knots).
Consequently, just six of the 18 named storms reached hurricane strength, making it just the fifth season in the satellite era (since 1966) to have 33 percent or fewer of Atlantic named storms become hurricanes (including 1982, 2002, 2009 and 2013), according to Klotzbach.
The Atlantic hurricane season officially lasts from June 1 through Nov. 30, when 98.4 percent of hurricanes have occurred in the Atlantic Basin; however, hurricanes can form in any month. Counting 2019, all 297 hurricanes that have made landfall in the continental U.S. since 1851 occurred during hurricane season.