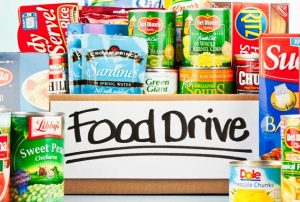 The annual island-wide food drive to stock the shelves of the Hatteras Island Food Pantry in Buxton is currently underway and will end on Dec. 31, 2022.
Non-perishable food and monetary donations are needed to help our island community get through the winter. Visitors as well as island residents are encouraged to participate.
Here are this year's collection points where donations can be dropped off:
Frisco Market/Rod and Gun in Frisco (daily 6 a.m. – 9 p.m.)
Our Lady of the Seas Catholic Parish Social Hall in Buxton (24-hr. drop-off box on porch of social hall, not the church)
Surf-or-Sound Realty in Avon (daily 9 a.m. – 5 p.m.)
Midgett Realty in Hatteras, Avon, and Rodanthe (daily 9 a.m. – 5 p.m.)
Sun Realty in Avon and Salvo (daily 9 a.m. – 5 p.m.)
United Bank in Buxton (daily 9 a.m. – 5 p.m.)
When considering what to donate, think "complete meals" – pair up spaghetti sauce with the pasta, peanut butter with the jelly, non-fat dry milk, and sugar with the cereal. etc.
Here's a shopping list of items usually in high demand:
cereals
canned tuna
mayonnaise
instant Ramen Noodles
regular coffee
laundry detergent
dishwashing detergent
shampoo and conditioner
shaving cream
deodorant
body wash
Other items include sugar (small bags), coffee, powdered coffee creamer, cooking oil, pasta sauce (not tomato sauce), canned veggies especially mixed veggies, spinach, collards, peas, creamed corn, carrots, and beets (not green beans), canned fruit (not applesauce), canned soup (not tomato or chicken noodle) and cereals.
Dog food, cat food, and kitty litter are also accepted.
Make sure that all donated items are unopened and not be past their "use by" dates.
If you don't have time to shop, then please make a monetary donation. It's tax deductible, and 100% goes to assist island residents. Checks can be written to United Methodist Men and mailed to them at PO Box 1591, Buxton, NC 27920.
Contact food drive organizer, Linda Browning, at (252) 995-3662 if you have questions or would like more information.